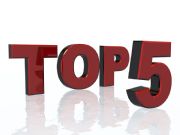 What do you think are the five greatest products of 2010 so far?
The Apple iPad? World of Warcraft: Cataclysm?
The improvements to Netflix? Android phones?
How about the game Angry Birds?
Of course, there are dozens of other choices that you could make when thinking about the year's greatest products. Would the Top 5 live in software? Hardware? Services? Sites? Apps?
All categories are open.
(Compare your choices to ours by checking out our list of the PCWorld 100: Best Products of the Year. Let's match wits!)
Tell us what you think by using our People's Choice app (on Facebook) to select your Top 5 favorites. You also may reach the app by going to PCWorld's Facebook page and clicking the Polls/Quizzes tab at the top. (And if you would "Like" our page while you're there, we'd appreciate it. Thanks.)
Here's what the app looks like:
Just click once on a product to put your first choice in the #1 box, and then click once to put your second choice in the #2 box and so on.
Let the people's voice be heard!