Amazon announced that it will soon update the Kindle software to allow users to lend and share Kindle books. The new feature is a welcome addition–catching the Kindle up with the rival Nook e-reader, and enhancing the value of the Kindle as a business tool.
The Kindle is marketed primarily as a consumer gadget, but it also offers a number of benefits and advantages as a business device. It is small and light–much more portable than a notebook, or netbook, or even a tablet device like the iPad. It is a cost-saving productivity tool that has a variety of valid business uses.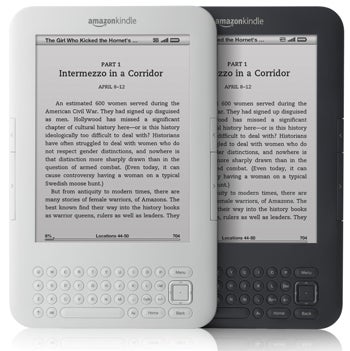 Rather than printing out hard copies of lengthy business documents, they can simply be converted to PDF and stored in the Kindle. Hefty reference sources such as Gray's Anatomy, or Dosage Calculation Practices for Nurses could be readily available in the palm of the hand–making them much more functional and valuable than a hardcover book sitting on a shelf somewhere.
The Kindle also offers the benefit of virtually ubiquitous cross-platform access that remains synced up between devices. Aside from the Kindle device itself, users can also access their Kindle library from a Windows or Mac PC, an iPhone, iPad, Android smartphone, or BlackBerry device. Kindle remembers where you're at in the book even as you switch between platforms, and notes and highlights are synced between them as well.
So, what's the big deal with the new lending feature? There are plenty of situations where an employee or co-worker might need to use a given title, but not forever. Since the need is temporary, one Kindle edition can be purchased by the business and farmed out to employees on an as-needed basis.
Details are sparse at this point on how the lending might work for proprietary documents like PDF files, and whether or not comments and highlighting are preserved as the document is shared, but assuming that is the case, the ability to lend such documents could enable teamwork and collaboration.
Just as with an actual book–you know, the kind made from bound paper–the owner of the Kindle e-book can not access or use the title while it is on loan. It is also not possible to loan the same book to more than one person at a time.
Amazon says that not all books will be eligible for lending, and also imposes a restriction (similar to the rival Barnes and Noble Nook) that the same book can not be loaned to the same person more than once. That is a limitation that hinders the value of lending in a business setting–since a user may need to reference the same shared title on more than one occasion.
In Video: Amazon's New Kindle Reinvigorates E-Reader Price War