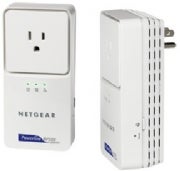 Ethernet? In my wall outlet? It's more likely than you think, with companies like Atheros working with the recent IEEE standard for their Powerline technology. The IEEE Standards Association recently ratified the Broadband Over Powerline standard, making it globally recognized. This opens the doors for technology companies to really utilize the tech in the residential and commercial workspace. It's expected to be used as the new standard for everything from uploading new media to electrically powered vehicles as they charge to extending home networking without a mess of cables to revamping smart grids.
Back in December of 2006, we reported on the merits of powerline technology, though in their tests HD video was choppy with much of the hardware. The advancements since that time have more than doubled the capacity of the technology back then. Access units (either wireless or ethernet jacks right on the remotes) have also improved dramatically since then, making the technology a no-brainer installation for non-tech savvy consumers.
IEEE 1901TM Broadband over Power Line (BPL) standard is one of the more interesting things I've read about lately. I can remember seeing it in development, but I lost track of its progress in the miasma that we call the Internet. The premise is a simple one: It utilizes existing power lines to extend your ethernet network into places you couldn't before.
With a base router (wired or wireless) unit and a couple extenders (again, wireless or 1-4 port ethernet extenders) you have all you need. You simply use the router as you would any other, and plug a remote into whatever outlet is conveniently near where you want a PC or have bad wireless signal in your home. The technology sends out ethernet (up to 500Mbps) through your power line. The Wi-Fi extender is just as simple. Bad signal in a corner bedroom? Not anymore, with just a little remote box plugged into the wall outlet.
That's it. It can't really get any easier than that, and I'm not sure it can get anymore fascinating.
Like this? You might also enjoy…
Follow GeekTech on Twitter or Facebook , or subscribe to our RSS feed .