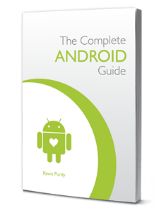 Android-powered phones are all the rage these days, with sexy new models available from all the major carriers (not just AT&T, ahem).
In fact, I predict the big seller this holiday season will be Virgin Mobile's Samsung Intercept, which you can own for as little as $25 per month (including voice and unlimited data). Check out my writeup if you want to know more about that particular gem.
One thing about Android phones, though: they're not quite as easy to learn as the iPhone. And at least some models (most notably the Intercept) come without a user guide, which could leave you scratching your head over how to use certain features.
Kevin Purdy's "The Complete Android Guide" covers everything you need to know about the Android operating system. It's written in a friendly, accessible style, and it's available free of charge when you read it online.
As a new owner of the aforementioned Intercept, I've found Purdy's guide invaluable in learning some of Android's less intuitive aspects. Its 16 chapters cover everything from the Home Screen to the App Market to Android's built-in GPS software.
If you don't want to stay tethered to your PC while reading the book, you can buy the PDF version for $9 or order the paperback for $19.95.
Android is cool, but it can be confusing. I think a guide like this is essential for learning the Android ropes–and getting answers to your biggest questions.