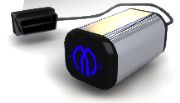 Cell phones and driving have historically been a bad idea. But at last week's i-Stage event, the Consumer Electronics Association awarded Mavizon Technologies first place and $40,000 to develop the AutoBot (no, not those Autobots ), a device that marries your car to your phone with a little piece of hardware half the size of a pack of cigarettes.
The appliance is more than just a GPS system, although it can track your coordinates as well. The AutoBot plugs into OBD-II connector usually found under the steering wheel column in your car, and syncs up to an Internet-based account, which you can access via a smartphone app or by regular browser jockeying. From there, the AutoBot can do any range of things such as send a text message when the car leaves a specific boundary (a sucker-punch to wayward teenagers), or messaging friends and family when the driver has been in an accident.
Just try and top that, Optimus Prime.
Best of all, you can do a diagnostics check of the car to figure out exactly what the little "check engine" light is telling you. No longer is the common man at the mercy of dubious car repair technicians; the AutoBot will literally bring a connector scanner to your phone for under $300. It's expected to go into closed beta testing in January 2011.The only catch is that you'll need to own a car made after 1996; cars built before 1996 aren't equipped with the necessary OBD-II connector.
Which is fine, because you probably need to upgrade from your 1980 Pinto anyway.
[Mavizon]
Like this? You might also enjoy…
Follow GeekTech on Twitter or Facebook, or subscribe to our RSS feed.