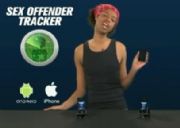 Wondering what Antoine Dodson, the star of this year's biggest viral video, is doing now? Still capitalizing on his fame, and now pitching the Sex Offender Tracker app for iPhone and Android.
The star of Auto-Tune the News' "Bed Intruder" song, which has been viewed more than 35 million times to date, appears in an infomercial-style YouTube video for a $1.99 mobile app powered by BeenVerified.com. Sex Offender Tracker uses augmented reality to display offender locations over video of your surroundings. Standing behind a short table, Dodson precedes his minute-long pitch with the question, "Are you still hiding your kids, hiding your wives and hiding your husbands?"
Dodson, of Huntsville, Ala., became an overnight sensation after a local NBC News affiliate reported on a break-in and attempted rape of his sister, Kelly. His outburst at the camera turned a serious situation into comedy, punctuated by flamboyant body language and the now famous tagline, "Hide your kids, hide your wife, and hide your husbands 'cause they rapin' everybody out here."
The Gregory Brothers, who've also become Internet-famous for creating catchy, auto-tuned remixes of news reports, quickly followed with a song based on Dodson's tirade, uploaded to YouTube and sold on iTunes.
As viral video stars go, Antoine Dodson's ability to capitalize on his 15 minutes of fame is arguably unparalleled. The Gregory Brothers split their "Bed Intruder" song earnings 50-50 with Dodson, and according to ABC News, Dodson has earned enough money from the ordeal to move his family out of the projects.
That said, the ad for Sex Offender Tracker is kind of hard to watch. It's a reminder that, without the raw emotion of the original report, Dodson's lines are getting stale. Eventually, those T-shirts, wristbands and coffee mugs will go out of style. More power to Dodson for riding the wave all the way to shore.