Tablets and smartphones are just the beginning of a "Post-PC world," former Microsoft executive Ray Ozzie wrote in parting memo to the company.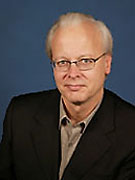 Ozzie took Bill Gates' place as chief software architect for Microsoft in 2006, and the company announced his retirement last week. A letter to his colleagues, titled "Dawn of a New Day," takes an optimistic look at the future, but warns the company that its vision of a "PC on every desktop" is slowly winding down.
"And so at this juncture … it's important that all of us do precisely what our competitors and customers will ultimately do: close our eyes and form a realistic picture of what a post-PC world might actually look like, if it were to ever truly occur," Ozzie wrote.
Ozzie envisions a future of powerful Web services that are independent of hardware, and appliance-like devices that "we'll wear, we'll carry, we'll use on our desks & walls and the environment all around us." The mouse and keyboard will be eclipsed by natural interfaces that sense the user's position, movement and touch.
Ozzie avoids specifics in his memo. He doesn't name products from Microsoft or its competitors; his only mentions of Windows is in the context of existing or past products. So I might be wrong in my interpretation, but I think the implications are obvious: Microsoft, start planning for a future without Windows.
Apple's iPad is the first step. Its inability to act like a fully functioning PC is the subject of constant debate, but to scoff at its popularity is exactly the kind of attitude Ozzie is warning against. This is a taste of the future, where being a powerful personal computer isn't as important as delivering popular Web services in a natural interface. On the software side, Google seems to be driving at the same idea with Chrome OS, trimming the fat of traditional PCs and leaving behind only the browser.
Obviously, Ozzie is trying to peer decades into the future, warning Microsoft that if it wants to be as relevant then as it is today, it needs to start planning for a world of powerful Web-based services and dead-simple devices to access them. The change will be subtle, Ozzie says, but it's already happening.