For anyone needing to create a diagram, flow chart, business drawing, or similar image, the go-to tool is usually Microsoft Visio. But why spend money on software when Lovely Charts works the same magic free of charge?
All you do is sign up for a free account (which requires only an e-mail address), then log in and get diagramming.
True to its name, Lovely Charts sports a lovely interface, one that makes easy work of building a flow chart, organizational chart, network diagram, or virtually anything else that mixes icons and pictures connected by lines.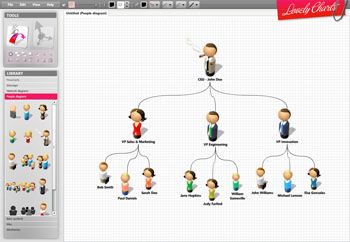 What's the catch? The free account lets you store only one diagram online. Thankfully, you can print and/or export (to JPEG or PNG) as many as you want. If you want more storage for your work, a Premium Lovely Charts accounts (which costs about $46 per year) lets you save unlimited diagrams, export to PDF, import your own artwork, share your drawings, and so on.
The best thing about Lovely Charts? There's nothing to install. It resides entirely inside your browser. If this is what cloud computing looks like, sign me up!