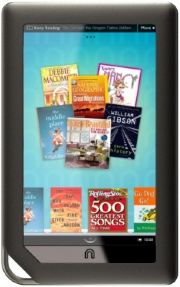 Instead of racing to the bottom, Barnes & Noble's new Nook Color aims to be the Cadillac of e-readers.
Pitched as "the ultimate reading experience," the $249 Nook Color has a 7-inch backlit touch screen with 16 million colors. In-plane switching, or IPS, provides viewing angles of up to 178 degrees.
In addition, the Nook Color will have 8 GB of built-in memory, with a microSD slot for expansion, built-in Wi-Fi (no 3G), a Web browser and the LendMe book borrowing feature that debuted in the original Nook. The Nook Color can be held in either landscape or portrait mode. No word yet on battery life, but it'll probably be far less than the original E-Ink Nook.
Barnes & Noble says the color display will come in handy for magazines, newspapers, and children's picture books. The book seller will soon open a virtual newsstand, with 14-day trial subscriptions available for all publications. "Hundreds" of kids' picture books are promised.
To coincide with the announcement, Barnes & Noble is reaching out to app developers for what it calls "Nookextras." Pandora is already on board with an Internet radio app, as is Microsoft with a mobile Office suite. The so-called "Nookdeveloper" program is currently taking sign-ups.
The Nook Color marks a big change in strategy for Barnes & Noble, which was previously locked in a price war with Amazon's rival Kindle. Both companies appeared to be steering clear of direct competition with Apple's iPad, instead relying on e-book sales by growing their respective platforms.
I wouldn't say Barnes & Noble is abandoning that strategy — the original, E-Ink based Nook isn't going away — but the move towards touch screens and apps suggests that Barnes & Noble wants to do more than sell books. Success will depend largely on whether the apps are any good, but $250 is a nice price for any multi-purpose tablet. The Kindle has third-party apps as well, but there aren't many of them, and the possibilities are limited without color and a touch screen.
Barnes & Noble is taking pre-orders for the Nook Color now, with an expected ship date of November 19.