Yahoo caught the redesign bug and gave Yahoo Mail a big makeover.
More than ever, Yahoo Mail emphasizes sticking around, with Facebook and Twitter status updates, separate tabs for instant messaging and more sources for photo and video slideshows. The service also got a facelift, now decked out in Yahoo's deep purple color scheme.
Let's take a closer look at these features:
Performance: Yahoo claims that its mail is now twice as fast. I can't measure this reliably, but I do like how quickly you can switch between the "What's New," "Inbox" and "Contacts" tabs. I'll also lump Yahoo Mail's improved spam protection into this bullet point, but you'll just have to take the company's word for it.
More Social: Facebook was already integrated with Yahoo Mail, but now Twitter is available as well, allowing you to post and read status updates directly from the "What's New" page. Unfortunately, Yahoo was having problems linking my Twitter account, but I can see that this is a nice way to get some quick status updates on multiple networks. Yahoo Mail also lets you break SMS messages into separate tabs in a single pop-up windows, which you can drag around the screen.
More Slideshows: Yahoo Mail turns Picasa and Flickr albums into slideshows that you can view directly within the mail window. This is a great feature that works as advertised — clicking "View Slideshow" darkens the surrounding screen and opens a large window for photos, which you can then enlarge to full screen. However, the new YouTube integration is a little sloppier. When I got an e-mail with multiple video links, they were shown separately rather than as a single slideshow. Still, it's only a little less clumsy than Gmail's presentation.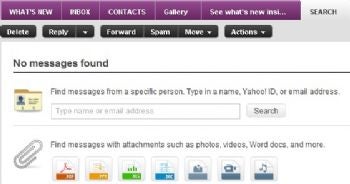 Better Search: When searching through your inbox, you can now filter out e-mails with seven kinds of attachments, including Office documents, PDF files, photos, videos and music. Gmail, by comparison, still doesn't let you specify what kind of attachment you're looking for, but it still has one big advantage: You can narrow down Gmail searches to a specific date range.
If you use Yahoo Mail and aren't seeing the beta, just hit this link to get it immediately.