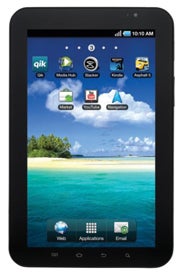 T-Mobile starts selling Samsung's Galaxy Tab tablet November 10 for $400 after a carrier subsidy. T-Mobile's pricing for the tablet is in line with Sprint's, who will sell the tablet three days later, and $200 cheaper than with Verizon, who will sell the tablet starting November 11.
Samsung's 7-inch tablet, aimed at the Apple iPad, will cost you $400 with T-Mobile after a $50 mail-in rebate, alongside a two-year contract with the carrier. T-Mobile did not specify how much data plans for the Samsung Galaxy Tab would cost, but mentioned it would be compatible with webConnect plans, which currently start at $25 for 200MB of data traffic.
Like with its successful Samsung Galaxy S phones line, Samsung adopted a multi-carrier strategy in order to get their tablet in the hands of as many people as possible. Four carriers in the U.S. are expected to carry the Galaxy Tab tablet, but only three of them announced availability and pricing.
Verizon will start selling the Tab from November 11 for $600, without a two-year contract, but rather with a monthly rolling agreement. Price plans for the Tab on Verizon will start at $20 per month for 1GB of data traffic, up to $80 for 10GB.
Sprint also announced earlier this week that it would sell the Tab from November 14 for $400 with a two-year contract. Price plans start from $30 for 2GB of data, or $60 per month for 5GB. On Sprint, 1GB of data on the cheapest plan is $15, while on Verizon is $10, and on the most expensive plan is $12, compared to Verizon's $8 per GB.
AT&T is the only U.S. carrier yet to announce the pricing and availability for the Samsung Galaxy Tab. AT&T is the carrier of choice for Tab's main competitor, the iPad from Apple, and carries a version of the Samsung Galaxy S smartphone as well. Verizon is also selling iPads at its stores, but the device doesn't use CDMA technology, like the Verizon version of the Galaxy Tab does.
You can see how the Samsung Galaxy Tab stacks up against the iPad and other upcoming tablets in our smackdown chart (see above).
Follow Daniel Ionescu and Today@PCWorld on Twitter