Remember MySpace? Me neither.
But apparently someone does, as Myspace (no longer MySpace, so you know) just overhauled its site, viewable now for new sign-ups and set for broad release in November. Myspace claims to have changed directions, focusing more on becoming an entertainment hub than a washed-up Facebook imitator, but their PR platitudes have fallen on deaf ears. Myspace still sucks. Here are 10 reasons why.
1. Myspace is a Sad Middleman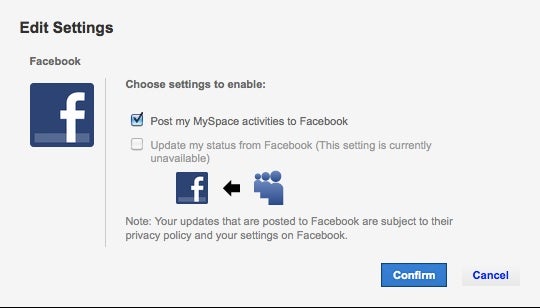 Posting photos and videos on your profile page is part of the joy of social networking, but Myspace recently added functionality allowing users to push photos, status updates, links and videos out to a Facebook profile or page, and also Twitter. This is basically Myspace undermining its own relevance, admitting that its social features are worthless and that its competitors are superior — which is wicked sad.
2. Myspace is Hemorrhaging Money and Traffic
As Twitter and Facebook become more and more popular, Myspace visits dropped a whopping 49 percent. Last month Facebook lured 148.4 million U.S. users, compared with 57.5 million for Myspace, according to the Los Angeles Times .
Also, the company lost an estimated $575 million last year, according to Bloomberg. Myspace's financial outlook is similarly grim. Myspace is expected to earn $297 million in ad revenues worldwide next year, down 14 percent from $347 million in 2010, eMarketer reports. Meanwhile, Facebook's ad revenue is expected to soar to $1.7 billion from $665 million.
3. Sudden Management Shifts Suggest Desperation

Myspace's ugly history of sudden management changes reeks of impending doom:
Cofounder and chief executive Chris DeWolfe left in April 2009.
DeWolfe was replaced with Owen Van Natta, who quit 10 months later after reported clashes with Jonathan Miller, who was placed in charge of digital media businesses for News Corp.
Miller then appointed Mike Jones and Jason Hirschhorn to be co-presidents of Myspace. Hirschhorn left five months later, leaving Jones as the current CEO.
Sometimes people leave their posts for better jobs; other times it's a last-minute exodus from a Big Fail.
4. Already Tried Revamping Several Times
Myspace is focusing on entertainment … but hasn't it already tried this before? Yes. Myspace Music was supposed to be the site's lifeline, but didn't have the anticipated impact. Another failure was remakingmyspace.com, an attempt to overhaul absolutely everything about the site, from its user interface to its philosophy. But Kate Geminder, the senior vice president of User Experience, bailed on the experiment and the company.
5. Myspace is a Den of Ill-Repute
Myspace didn't adopt the nickname "MeatSpace" for nothing — for years, the site has been nearly synonymous with sex crimes, including pedophilia and rape. Last year Myspace evicted some 90,000 sex offenders from its site. The fact that it had to do this — and that the number was so ridiculously large — signifies the site isn't exactly family-friendly, or safe.
6. It's Still Ugly
Cosmetic overhaul? Not quite. Myspace is gunning for a clean and streamlined interface, but one look at a screenshot and boom — instant headache.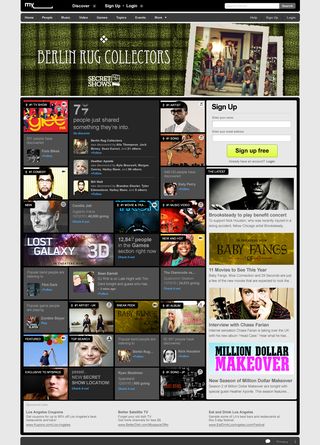 It's riddled with flashy textiles, text-heavy, and sandwiched between throbbing banner advertisements. Barftastic!
7. Updates are Blatant Rip-Offs of Other Social Networking Sites
Myspace's press release is full of action-packed PR platitudes that, upon closer examination, scream that it's ripping off Facebook, Twitter, and their ilk:
The "discovery engine" — which updates users' homepages with real-time information based on their interests — is just like a Facebook feed populated with a user's "likes."
Content Hubs are no more than ad-driven promotional pages for media companies and celebrities.
The Discovery Tab is exactly like Twitter's collection of trending topics.
Badges? C'mon. Really? Who cares about badges?
8. Attempts at Building "Underground" Appeal are Just Plain Sad
The "hip" blurb by Myspace's chief executive struck me as a pathetic grasp at relevance. Jones lauds Myspace users as scouts for "up-and-coming subcultures."
Up-and-coming subcultures? Since when does a multimillion-dollar company — funded by much-loathed News Corp. — have any understanding of subculture? Admittedly, I'm way out of the loop when it comes to any kind of underground scene (I blame my nerdy glasses and awkward gait), but I find it hard to believe that true subcultures are using any social networking site as a vehicle.
9. Plans to Segregate Users
The badges are meant as recognition rewards for users who generate the most content and attention on the Topics Pages. The more badges and Digg-like "ups" and Twitter-like "follows" you get, the more Myspace will promote your profile and deem you a "taste maker." This may be a stretch of semantics, but if Myspace promotes one person's profile and calls them a "taste marker," an influencer of the masses, isn't that, by default, debasing other people's profiles, effectively labeling them as cultureless dorks?
10. Anti-Social Network Stance is Pathetic
Jones told the New York Times: "Our focus is social entertainment. Niche players have long staying power." Gross, but worse yet, he told Forbes that "We're not a social network."
Take another look, man; I think you'll find that you are! You are a social network!
For now.