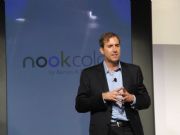 At a glitzy presentation full of color, dance, and corporate executives, Barnes & Noble introduced the Nookcolor – a color e-book reader with a 7-inch color screen, 8GB of built-in memory and the Android operating system.
"This is a momentous day in our company," said Barnes & Noble CEO William Lynch at a Union Square Barnes & Noble bookstore in New York City Tuesday. He noted that at $249 the Nookcolor will be about half the price of 7-inch Android tablets now coming onto the market. "This is the best e-reader on the market, hands-down."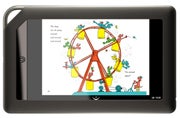 The Wi-Fi only unit is just a half-inch thick, weighs just under a pound and has a memory card slot for additional storage. Like the monochrome nook, the Nookcolor will allow users to share books with friends whether they own the same unit or not. It also has a feature that lets you share passages with other users and lets them post comments.
(Above: A troupe of colorful dancers help introduce the Nookcolor ebook reader during a press event at the Union Square Barnes & Noble bookstore in New York.)
The Nookcolor is available for preorder now and will be available at Barnes & Noble stores, on the web (www.nookcolor.com) and at Best Buy and Wal-Mart stores November 19, said Lynch.
"Reading in brilliant color is the killer app," said Lynch, who noted that the five largest book publishing houses as well as magazine giants Conde Nast and Hearst were partnering with Barnes & Noble to bring content to the Nookcolor. Many of the heads of the magazine and book publishers were at the Tuesday's launch event, which was held in a New York Barnes & Noble store.
(Demo of Barnes & Noble's NookColor)
Among the new features Nook kids experience, which offers animated children's books with the help of AliveTouch technology. It also include a Read to Me feature that reads the children's book in a professionally recorded voice, thus freeing parents from such duty at least for one night.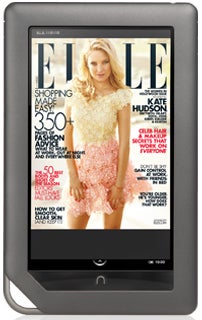 One tradeoff of the jump from a monochrome e-ink screen to color is that battery life goes down from a few weeks to eight hours of continuous use. Since it will come with Android 2.1, the Nookcolor won't support flash for now but does support video playback and animations. The unit will come with a digital music player as well as a Pandora streaming music app.
Like the older nook, the bottom of the screen is used for sideways-scrolling content links and like the other unit, additional free content becomes available when the Nookcolor is used in the confines of a Barnes & Noble store.
When asked why the Nookcolor doesn't offer 3G connectivity, Lynch said, "Wi-Fi is free and with the consumer 'free' is good."
Lynch forecast that the Nookcolor would be the fastest selling e-book reader for the coming holiday season. "Nookcolor is truly the device they've been waiting for," said Lynch.
Note: When you purchase something after clicking links in our articles, we may earn a small commission. Read our affiliate link policy for more details.