If you're running a small business and you need help keeping the books, you're in luck. Small-business accounting, once pretty much defined by the QuickBooks and Peachtree desktop packages, has blossomed on the Web and diversified. You can find a wealth of services that will meet your business's accounting needs, from full-featured bookkeeping to payroll, expense accounts, invoicing, and more.
All of these services run in a browser, so you can crunch numbers from just about any Web-connected computer, and many have smartphone companion apps. Several offer integration features that let you take advantage of other sites and services–or even desktop software. All promise financial-institution-caliber safeguards for your data, which is probably better protected at an industrial data center than on most home PCs.
Here's a look at five accounting sites for small businesses. While all will help you keep track of income and expenses, each one has specific features that might make it a good fit for your accounting needs and preferences. Most have very basic free versions or 30-day free trials that will let you dip your toe into the water, too.
FreshBooks
Although primarily an invoicing application, FreshBooks also offers expense- and time-tracking features that will appeal to small, service-oriented businesses. Even the free version gives you a subdomain on the FreshBooks site (in the format mydomain.freshbooks.com), which you can customize with a logo and colors. You can import expense data from bank and credit card accounts–but only by exporting it manually to a CSV file, which you must then reorganize so that your fields correspond to FreshBooks' import format.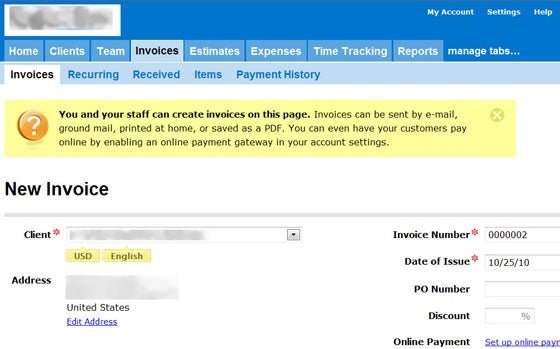 FreshBooks is a good fit for service-oriented companies.
FreshBooks will also appeal to small businesses that are willing to pay to outsource snail-mail invoicing: For between $0.99 and $1.39 a bill (depending on how many bills you mail each month), FreshBooks will create and mail invoices for you, complete with payment stubs and return envelopes.
It will also send out e-mail invoices and help you set up online payment receipt via any one of ten supported online payment services, including PayPal. You can collect and sync FreshBooks data via Android, BlackBerry, and iPhone apps, as well.
FreshBooks' free version limits you to one user account and no more than three clients; it also puts its brand on e-mail invoices. Upgrades ranging from $20 to $40 let you add clients and team functionality. FreshBooks doesn't really bill itself as a complete accounting service, however. Rather, it encourages you to use it for day-to-day time tracking and invoicing, and it suggests that you periodically export totals to other products for calculating taxes and performing other accounting functions.
WorkingPoint
This capable service seems directed primarily at companies that carry inventory, as it lets you import inventory items via CSV file and offers billing options that you don't see in most small-business Web services. But it has lots of other helpful automation functions, too, including the ability to download and import transaction data from bank accounts and credit cards, as well as support for manual import of contacts (via CSV or VCard files). As you import transactions, you identify the Schedule C line item where they'll go, which will help enormously at tax time.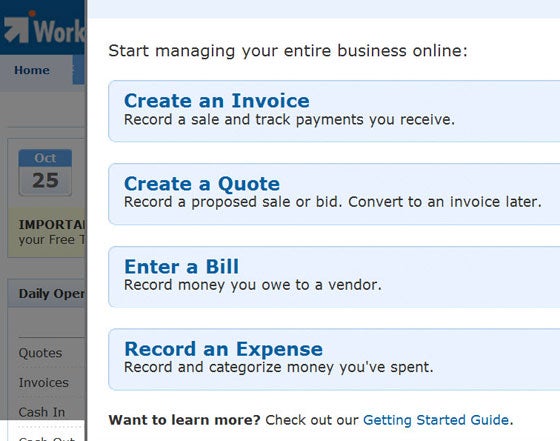 WorkingPoint is a user-friendly choice for those who are just getting started.
WorkingPoint does a very good job of making its many features less intimidating for newcomers, providing step-by-step instructions everywhere as well as complete help files. Also reassuring is the ever-present orange Support tab on the right side of each page.
These features aren't free: After a 30-day trial, you must pay either $9 a month for up to ten invoices, or $20 a month for unlimited invoices, tax reports, support for PayPal payments and recurring invoices, and the ability to give other users access to your account.
Outright
This free bookkeeping service lacks some of the features you get in most accounting packages–it can't create an invoice, for example–but it does make the basics of expense and income tracking easy. More important, it tackles a problem that sends many self-employed people into the arms of a pricey accountant: figuring out quarterly tax liability.
Outright supports downloads for bank account and credit card transactions, which it automatically channels into income (Money In) and expense (Money Out) registers. You delete the transactions that aren't business related, and then assign Schedule C categories to those that are. Based on this data, Outright figures out what you owe the federal government each quarter. You're on your own for state taxes, however.
Outright's reports feature uses the same Money In/Out data to generate several nifty-looking charts of your profit-and-loss statements, expenses by category, and the like.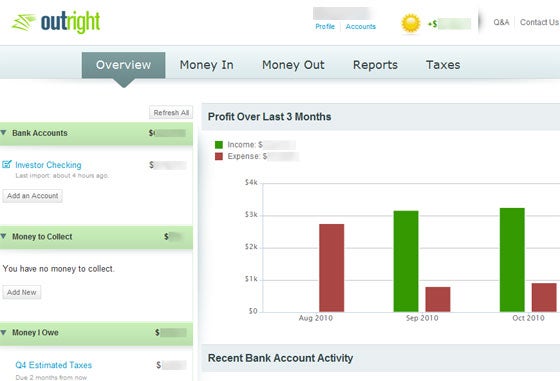 Outright offers bank and credit card support, and helps you with quarterly federal taxes.
During tax season last year, Outright offered a paid service for filing 1099 forms (statements documenting payments to independent contractors). Most Outright users probably wouldn't need that service, though. Outright really is for the smallest of small businesses: self-employed individuals who want an easy-to-use tool to track how well their business is doing and how much they have to send Uncle Sam every quarter.
Next page: A good option for multiple-currency support, plus Web-based QuickBooks
Less Accounting
Excellent data importing, foreign language and currency features, and a slew of customization options are among the selling points for the full-featured Less Accounting service, although many of those functions are available only with the pricier plans. Less Accounting has five pricing options, starting with a free version that limits you to five invoices and five expense items a month and doesn't support bank transaction downloads.
A $12-a-month version lifts the invoice and expense restrictions, but still doesn't support nightly bank and credit card transaction downloads. Plans priced at $20 and $24 a month heap on additional features; and if you want to get the services of a human bookkeeper, Less Accounting will provide that for $300 a month. All accounts create a custom subdomain (in the format mydomain.lessaccounting.com) with a dashboard-style landing page that appears when you log in.
While somewhat pricey, Less Accounting has modules that make it a good choice for businesses with customers in different countries, including multiple-currency support and the option to customize forms by providing your own translations for standard invoice and proposal terms. Most plans include mileage logs; all let you import contacts from Gmail and Outlook.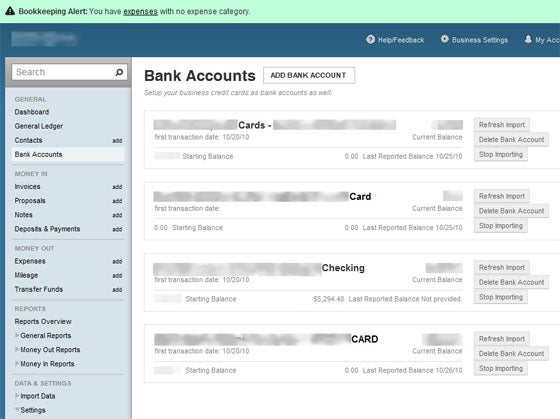 Less Accounting supports multiple currencies, a great feature if you perform work in multiple countries.
The service integrates with a number of others that provide functionality you don't get within Less Accounting, including PayPal payment receipts, CRM features (HighRise), and a snail-mail service (Postal Methods) for sending invoices and proposals. Those add-ons, along with Less Accounting's own modular approach to pricing, make it suitable for a fast-growing business with rapidly changing needs.
QuickBooks Online
Intuit may not be happy to see the Web eat away at its flagship desktop app, but it isn't standing idly by. In the last year the company has significantly upgraded and improved its QuickBooks online offerings, implementing a badly needed user-interface overhaul and introducing new features.
The QuickBooks Online upgrade path is clear: The free (and surprisingly capable) Simple Start limits you to 20 customers and a limited set of reports; it may be worth investigating for former Quicken Home & Business Online users seeking a new home since Intuit folded all Quicken Online services into the strictly consumer-focused Mint.com.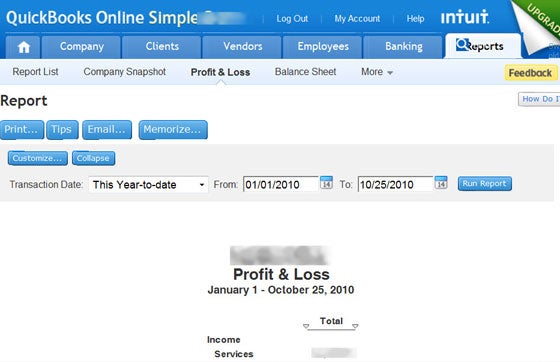 QuickBooks Simple Start can do the trick if you're self-employed and don't need online banking support.
For $10, QuickBooks Online Basic offers 40 reports and lets your accountant log in, but you'll have to upgrade to the $35-a-month QuickBooks Online Plus for online banking support and a slew of custom invoicing, billing, and expense-tracking options (including client access for certain functions). Payroll and credit card payment support are available to all customers regardless of plan, as extra-cost options.
QuickBooks Online's handsome user interface and task-focused approach to bookkeeping put it on a par with the competition, but the paid versions are pricey and inventory support is sketchy. The free Simple Start, however, is a real gem that can easily meet the needs of a self-employed professional who wants to create invoices and keep an eye on the bottom line, and who doesn't particularly care about online banking support.
Who Should Use These Services?
Web-based accounting services for small businesses are becoming increasingly sophisticated and diversified. The ability to access account info and create invoices from any PC–or, increasingly, from a smartphone–makes them especially useful for businesses that render services on customer sites, but others can also benefit from these offerings.
For example, for individuals who are just starting out and need to keep expenses down, free services such as Outright and QuickBooks Simple Start–perhaps even in tandem–can be a godsend. Outright offers basic tax help that you don't get elsewhere, with transaction download support that competitors make you pay for; QuickBooks, meanwhile, has good invoicing and reporting features for up to 20 customers.
But for just pennies (or maybe dimes or quarters) a day, paid services such as WorkingPoint, with tools to handle billing for inventory, and Less Accounting, with its modular approach and many add-ons, can deliver real value. Both also save you data entry thanks to transaction download support; Less Accounting, on its higher-priced plans, particularly shines in that respect. FreshBooks' snail-mail invoicing service could be worthwhile if you seek to avoid the tiresome chore of printing, stamping, and sending bils via U.S. mail. At the higher end, QuickBooks Online's paid services cater to growing businesses with complicated payroll issues, and to anyone who can use sophisticated reports to tweak business plans. Less Accounting's higher-end offerings will help people who do business abroad.
These five services cater to everyone seeking to offload or at least simplify day-to-day bookkeeping tasks as inexpensively as possible so that employees can concentrate on what they make money doing. You may still need an accountant to look over the big picture of your tax situation, but these services can empower you to keep relevant data organized and handy on your own.