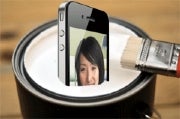 Apple is delaying availability of its white iPhone until Spring 2011, nearly 6 months after it promised consumers they would be able to purchase the mythical device.
First the device was supposed to show up at the iPhone 4 launch in June, then it was delayed until the second half of July. A month later, we found out the white iPhone 4 wouldn't make an appearance until the end of 2010. Now Apple is pegging the AlbinoPhone 4 as coming next spring, according to Reuters.
Apple won't say why it has had problems with the iPhone 4 other than a vague statement back in June that the white version was "more challenging to manufacture than expected." Rumors and speculation have been swirling for months about why the white iPhone 4 was held back. Some say Apple's manufacturing challenge was a problem with the white iPhone 4's coloring process, there were suggestions it was a problem with the backlight, while others speculated it was held back to fix the iPhone 4's antenna problems.
Manufacturing Demand?
But how hard could it be to give consumers what they want? Could Apple be creating demand for the white iPhone 4 by heightening our collective tech lust for something we can't get? Just look at the hype around the white iPhone 4 in recent weeks. Gadget blogs went nuts in early October when Pocket Lint spotted a white iPhone 4 in the wild, and on Tuesday there was speculation it was coming soon after a Macrumors reader spotted the white iPhone 4 on the Apple Store iPhone app. Fed up with waiting, there's even a small cadre of whiPhone 4 fans going the DIY route or finding other methods to get their white fix.
Could Apple be holding back just for the hype? It wouldn't be the first time. Silence as a marketing technique has often served the company well. Look at the speculation surrounding the Verizon iPhone (another oft-desired mythical Apple device), or the overwhelming hype that led up to the iPad debut.
I really have no idea why the white iPhone 4 is held back, but what would happen if all of a sudden Apple delivered the white iphone to everyone who wanted it at launch? Or if the iPhone landed on Verizon two years ago? It might have lost a bit of the "unobtanium" quality that makes the iPhone so magical.
Apple isn't completely silent when it comes to the white iPhone 4 since it is talking to the press about it. But for this latest round of white iPhone 4 speculation Apple has dropped any mention of manufacturing problems. Instead, the company won't comment about why the white iPhone 4 is delayed yet again.
By treating the white iPhone like a white rhino lost in the darkness of the Apple tech jungle, Cupertino's gadget wizards just might be cleverly building extra anticipation for a second iPhone 4 sales bump early next year.
Of course, that's a little counter-intuitive since it stands to reason that Apple would want the white iPhone 4 out there for the Christmas season. At the very least, Apple appears to be happily riding the white iPhone 4 hype wave by remaining as silent as possible.
Judging by the white iPhone 4 excitement maybe Apple should come up with a delayed/faux iPhone every year. How about for the iPhone 5 launch, the company releases a limited edition rainbow-colored iPhone. Like a rare species of bird that is often spoken of, but never seen, the multi-hued iPhone could make infrequent appearances at Apple Stores in Paris, Beijing and New York. But just before you get to the cash register, poof!, the smartphone species disappears back into the mists of the Genius Bar. Trust me, Steve, I think I'm onto something here.
Connect with Ian Paul (@ianpaul) on Twitter.
Note: When you purchase something after clicking links in our articles, we may earn a small commission. Read our affiliate link policy for more details.