Muvee Pixie ($30, 15-day free trial) is little sibling to, or subset of, Muvee's full Reveal video authoring utility. Reveal's claim to fame is its ability to automatically create professional-looking movie projects using prefab styles. Pixie does the same thing, but is less expensive and somewhat limited–though not to the point that it can't be useful.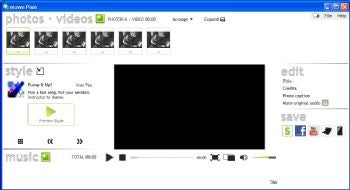 Muvee Pixie requires that Windows Media Player be installed (European XP N users take note), and also installs the Microsoft Visual C++ 2005 redistributables if they aren't already on your PC. The only reason I mention this is that the program is touted as netbook-friendly, and some netbooks are light on the hard drive space. Memory usage was about 75MB for Muvee Pixie, plus what you need for each picture and video added to a project. On my Atom N270-based netbook, it seemed perky enough, and certainly more so than with larger authoring apps such as CyberLink's PowerProducer.
Pixie is social network-friendly. It includes dedicated Facebook and YouTube upload functions, as well as uploading to Muvee's own Shwup.com community. You may also save your creation to the hard drive in Windows Media format, and in MP4 format for the iPhone family or Android devices.
The cynic in me expected Muvee Pixie to be a dead end creatively, and in some aspects it is. With only four styles on board, and three free ones Muvee offers online at the time of this writing (10/10/2010) there's not an huge variety of FX and transitions. However, the included styles are attractive and for the average user, the ability to tweak them by altering the title and credits, photo captions, background graphics and animation should easily be enough. Pixie does not allows you to load user styles as Reveal does, so you're limited to the included styles, plus the free online styles–and of course, the style packs Muvee will sell you for $15 a pop, which can add up in a hurry.
My only, and exceedingly minor, complaint about Pixie is that it didn't want to remember the last window size and position: It always opens in full screen mode. Other than that, I found the program a quick and inexpensive way to create professional-looking video productions, though they only go a bit beyond what you can do with Windows Movie Maker or its replacement, Windows Live Movie Maker, and their Automovie function.
Note: Movie Maker was stripped from Windows 7, but Movie Maker version 2.6 remains available and will install on Windows 7.