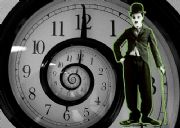 Irish filmmaker George Clarke thinks he's found a time traveler in behind-the-scenes footage from Charlie Chaplin's 1928 "The Circus."
Clarke, an avid Charlie Chaplin fan, discovered a curious scene in some behind-the-scenes footage shot during the Hollywood premiere of "The Circus" in 1928. The scene appears to show a woman (perhaps a man?) talking on a small, wireless device as she (he?) walks across the screen.
Go ahead and check out the video–the actual footage begins at 2:37:
The scene starts out with the person walking across the screen and holding something to their ear. At this point it looks like it could be anything–their collar, a pack of cigarettes, a makeup case, etc. At the end of the scene, however, they turn slightly toward the camera and you can clearly see that they're talking (or, well, their mouth is moving). The object in their hand is still shrouded in shadow, but now the scene looks a lot more like something you might see on the street today.
Yep–someone talking on a cell phone. Clarke says that he's screened the footage to over a hundred people and that nobody's been able to give him a good, non-science-fiction explanation of what's going on in the scene. Clarke concludes that the simplest explanation is this: it is someone talking on a cell phone.
But wait…there were no cell phones back in 1928 (in fact, the first modern-esque cell phone didn't make it into the public until 1989). So, following Clarke's "simple" explanation…the person talking on a cell phone is a time traveler.
Not surprisingly, a lot of people on the internet have already jumped on Clarke's explanation with criticism (and have offered explanations of their own). One commenter at Roger Ebert's Journal suggests that it's an electronic hearing aid, while another thinks the person may have been dubbed into the scene. One commenter even hints that highlighting this anomaly in a Youtube video would be a great way to virally kick off a movie–after all, Clarke is a filmmaker.
My honest opinion is that it does look like a cell phone, but perhaps that's because, as another commenter points out, we modern-day 2010 humans automatically relate such a posture to cell phones.
So, let's say we take Clarke's "simple" explanation and run with it. The "simple" explanation that it's a time traveler talking on a cell phone raises quite a few questions. Such as: with whom are they speaking? How are they getting a signal? Do they have an unlimited data plan, or have all the wireless carriers gone "tiered" in the future? Are their roaming charges just going to be crazy, or what?