Apple is creating an iPhone SIM card capable of working with multiple carriers in Europe, a move that would make the carriers a mere afterthought, according to GigaOm. The company would sell its famous handset in European markets with the non-carrier specific SIM card, thereby turning the Apple Store and Apple.com into a one-stop shop where you buy the iPhone and decide on carrier service at the same time.
The rumored plan, which is a similar model to Google's plan for the Nexus One, would give customers the chance to purchase an unsubsidized iPhone sold at full price.
Removable or baked-in SIM?
GSM-based handsets typically use a removable SIM card containing carrier-specific data that makes your cellphone work on a particular network. But GigaOM's report says the new SIM, made by digital security firm Gemalto, would be "integrated" into the iPhone, which suggests that it would not be removable.
Regardless, the fact that the SIM is not carrier-specific means users may be able to easily switch between carriers depending on which one is offering the better deal. Instead of switching out a physical SIM card as European users do now, they would likely make the switch via iTunes or perhaps directly through Apple or their new carrier.
Great for Europe, No Chance in the U.S.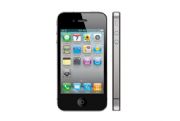 While the plan sounds great for users, it doesn't really change the game much in Europe, and a scheme like this would never work in the United States.
It's already relatively easy for users in Europe, Africa and many other places around the globe to purchase an unlocked device and switch GSM carriers at will by buying a new SIM card.
Also, competition among European carriers is extremely high. There are 34 countries in which the iPhone is available in Europe and only 14 of them have an exclusive iPhone carrier. The other 20 countries, including almost all of the most affluent European nations, have two or more service providers for Apple's smartphone. France, the Czech Republic, Germany, Italy and Spain all have three iPhone carriers to choose from. Apple fans in Sweden have four carrier choices and users in the U.K. have six.
Contrast that with the US, where AT&T is the exclusive iPhone carrier — well, at least for the next few months anyway. And the typical way to buy an iPhone, or any smartphone for that matter, is with a two-year contract at a subsidized price for a carrier-locked handset.
It's easy to place all the blame for this state of affairs on American carriers, but it's not like masses of people are read to pony up the dough for an unsubsidized device. Google's plan to sell the unlocked Nexus One through an online store was a dismal failure. BlackBerry and Palm have sold unlocked devices through Amazon for years, but that hasn't helped them kill demand for the iPhone or Android devices.
An unlocked phone may sound like a nice idea, but most people aren't willing to cough up $500 or more for a taste of smartphone freedom. Like a lifer who's spent too much time in prison, most of us prefer the comfort of a two-year contract and a locked-down $199 device.
Connect with Ian Paul ( @ianpaul ) on Twitter.