Android phones will soon become a lot more suitable for business, as important control features come to Google Apps.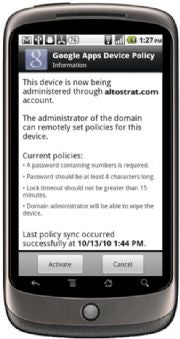 Administrators will be able to remotely wipe lost or stolen phones, lock idle devices, require passwords, and force passwords to have a minimum length or a combination of letters and numbers, Google announced.
And for outgoing employees, administrators can remotely strip away all corporate data, allowing people to keep their phones after they leave the company.
The features, coming in a few days, will only be available on phones running the Android 2.2 OS or higher, and for businesses using Google Apps Premier or Education Edition. To access the features, you'll go to the "Mobile" tab under "Service Settings" in the Google Apps control panel.
Google already added these features for iPhone, Windows Mobile, and Nokia E Series phones last February. The omission of Android seemed odd, but there must be a reason it wasn't available in versions earlier than "Froyo" 2.2. That OS launched in late June and is still rolling out to some phones, including Samsung's Galaxy S.
The new features may sway fence-sitting businesses to go Android, giving Google a boost against Research in Motion's BlackBerry and Apple's iPhone. And for businesses that already use Android, the new features could convince them to try Google Apps, which at $50 per user per year is a cut-rate alternative to Microsoft Exchange.
To see how that might work, check out the results of Larry Selzer's Google Apps experiment for Infoworld.