You bought a smartphone so it could become your external brain, filled with all the phone numbers, links, contacts, and data you don't really want–or need–to keep in your head. So why would you want to erase your electronic memory? Maybe you're planning to sell your phone, or the contract for your company-provided device has expired. Whatever the motivation, here's how to reset your phone to factory settings.
Step By Step: Android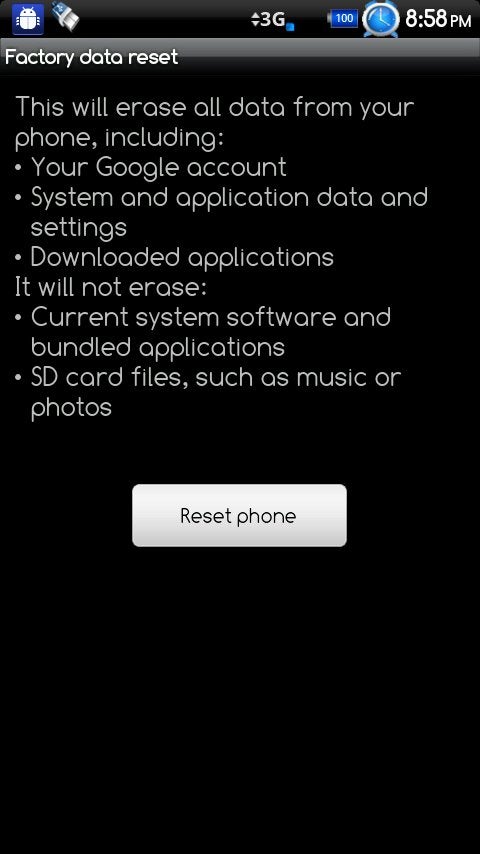 1. Press the Home button, then the Menu button, then tap Settings-Privacy-Factory Data Reset-Reset Phone-Erase Everything. Keep in mind that this does not erase SD card information, nor does it erase bundled applications that came with the phone.
2. If the phone will not boot at all, first remove the battery, then reinstall it. The directions for reverting to factory settings will depend on the specific device.
For instance, with the HTC Dream you'll need to hold down the Home and Power keys simultaneously for 30 seconds. Wait for the yellow triangle with an exclamation point inside to appear on the screen. Press Alt-L. Press Alt-W. Then press the Home and Power buttons simultaneously again for 30 seconds.
To reset the Motorola Backflip, hold the camera button while turning the phone on. Release the camera button when prompted. Press the Volume Down button and hold until the yellow triangle with an exclamation point inside appears. Close the Backflip and press just above the back button. Press Alt+W. When the wipe is complete, select Reboot System Now.
For other phones with Android, check the user manual for specific hard reset instructions when the smartphone won't power up or freezes.
Step By Step: iPhone
1. Install the latest version of iTunes for iPhone before restoring to factory settings.
2. Connect the iPhone to the computer.
3. Select the iPhone in Devices, then select Summary-Restore.
4. Back up the iPhone if needed (you'll be prompted).
5. Select Restore to return the device to factory settings. Leave the iPhone on and connected to iTunes via the computer until you see an "iPhone is activated" message. You must have an Internet connection while logged in to your iTunes account for this reset to work.