Scaling Mount Everest is a great accomplishment, a feat of human endurance. And now, thanks to the Nepalese telecom firm Ncell, you can brag about your triumph over 3G. Is this awesome, or an example of technology plundering nature?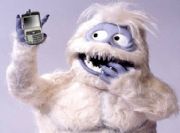 Ncell installed high-speed 3G phone service 17,000 feet up the 29,029-foot peak. So now climbers can whip out their smartphones, check e-mail, surf the Web, and even have video chat. You totally don't have to leave the office behind anymore! Isn't that great?
The service is expected to clock in at 3.6 MB per second, according to Aigars Benders, the chief technical officer of Ncell. "But we could have it up to 7.2 MB if there is demand." Forget Starbucks' free Wi-Fi; let's climb Everest and crank through our 'Net business on our iPads.
In all seriousness, installing 3G on Everest is a good idea, as it allows climbers to keep in touch with their tour guides, call for help if needed, and receive weather reports and safety information.
As much as I love advances in technology, regarding this, um, advancement, I'd have to agree with Kelly McParkland at the National Post, who says Everest is now "ruined."
"Great, people yakking on their cellphone on the roof of the world. That's one giant leap for the communications industry, one huge disaster for any sense of adventure. You think it's annoying listening to some Bozo yammer on his cell phone (or, worse, Bluetooth) in the coffee line-up, how about when you're waiting your turn at the highest spot in the world?"
What do you think? Have we gone too far . . . or not far enough?