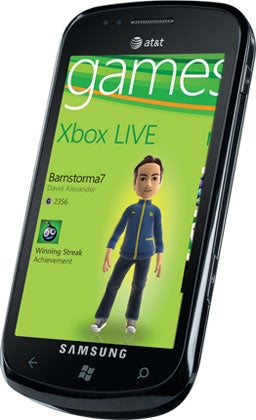 Gaming is obviously a huge draw on consumer smartphones. Games are the largest category of apps on the iPhone and a major area of growth for Android handsets, and phone gaming in general is arguably the largest-growing segment in the game industry.
Naturally, if Microsoft wants to have a shot at reentry into the smartphone market with Windows Phone 7, it needs to offer great gaming. The company seems to have put in a lot of effort, adding full Xbox Live integration and exploiting its relationships with top-tier game publishers to bring hot titles to phones.
Now that Windows Phone 7 phones are launching, what is gaming really like on Windows Phone 7? Are there plenty of games, and are they good? Does the Xbox Live integration function well? Is gaming a slam-dunk for Microsoft's reborn platform, or just another in a long list of features that show promise but still need work?
Before I dive into gaming on Windows Phone 7, let's check our expectations. This is a nascent smartphone operating system. It's literally in the middle of its launch: Phones became available in Asia and Europe on October 22, and will launch in North America on November 8. Although Microsoft has been in the smartphone business for as long as smartphones have been around, Windows Phone 7 is a fresh start with a new interface, new development tools, and a totally new software library. Over 1000 applications are available now, with over 250 of them in the games category. That's a good start, but it's only a start.
Games Selection
The limited selection is probably the worst part about gaming on Windows Phone 7 right now. If Apple is the new king of mobile gaming with the iPhone, Microsoft clearly has a lot of catching up to do. Popular phone games such as Angry Birds, Cut the Rope, Doodle Jump, Fruit Ninja, Plants vs. Zombies, and Words With Friends are nowhere to be found on Windows Phone 7. Even the Android Market, often criticized for its lack of high-quality games, has some of these titles. You can find some acceptable Windows Phone substitutes (AlphaJax is a decent replacement for Words With Friends), but Apple's App Store has an enormous head-start on providing a huge number of great games. That said, Windows Phone 7 does have wonderful renditions of popular phone titles such as Flight Control, The Sims 3, and Tetris.
Xbox Live-enabled games are prominently featured in the Windows Phone Marketplace–perhaps promoted too heavily, making it less obvious to users that lots of independent games without Xbox Live support may be worth checking out. The Live-enabled games currently range from $3 to $7, and while most are a good bargain, some prices leave me scratching my head (Bejeweled for $5? It's $3 in the iPhone App Store).
The majority of paid apps for Windows Phone 7, games or not, have free demo versions. Demos operate a bit differently here than on iPhone or Android (where a demo is a separate application, making you head back to the store to download the pay version if you like it). Rather, trial versions operate as they do on the Xbox 360: You download one complete app with a free "trial mode," and if you want to buy it, you simply unlock the software you already have. This model is definitely superior.
It will take two things to rectify the relative dearth of top-tier games on Windows Phone 7. First, developers need time to port their popular titles to the new platform. Apps are piling up rapidly for Windows Phone 7, and a lot more games will be on offer over the coming months; but high-quality development takes time, and this is a brand-new phone platform. The second, bigger issue boils down to raw hardware-sales numbers. Developers go where they're likely to make a good return on investment. If Windows Phone 7 devices fly off the shelves for months on end, developers will flock to the platform. If Apple and Google remain overwhelmingly dominant, Microsoft will find it hard to persuade developers to support the new platform.
Next: Xbox Live on Your Phone
Xbox Live Integration
One huge gaming advantage for Microsoft's new phone platform is its connection with the popular Xbox Live service. Well over 20 million Xbox Live members are buying games for their Xbox 360 consoles, and even more people play PC games that use Games for Windows Live. This is a built-in community of game players who are each invested in a single Gamertag (a person's online identity on Xbox Live) and addicted to earning Achievements to build up their Gamerscore. They have cute, cartoony avatars to visually represent themselves, and they already have friends lists of fellow gamers.
Windows Phone 7 brings all of that to smartphones…sort of. When you set up your phone, you enter the Live ID associated with your Gamertag to gain access to your Achievements, avatar, and friends list. Xbox Live-enabled phone games can award Achievements and points to your Gamerscore.
The experience, however, is somewhat disjointed. The main Games hub on a phone has a flat 2D image of your avatar and can only show you notifications about game invites or "it's your turn now" messages for phone games. To see a 3D representation of your avatar and to send or receive general messages on Xbox Live, you have to download a separate free application called Xbox Live Extras. This app doesn't provide a "Live Tile," one of Windows Phone 7's major features, to indicate when you have unread messages or game invites. It also doesn't support voice messages over Live, which seems like a natural for the phone platform.
There's a lot of untapped potential here. Microsoft needs to tie all of the Xbox Live stuff together into the main Games hub and get rid of the Xbox Live Extras app. How great would it be for a friend to invite me to, say, a game of Fable III on their Xbox 360 and have my phone buzz and pop up a notification, so I know to head to the living room and join them (or send a message from my phone to say that I can't play right now)? That's just not the way it works yet.
Windows Phone 7 supports only turn-based, asynchronous games (think of games in which you take discrete turns, like chess or Scrabble). Real-time multiplayer gaming would be a mess over 3G networks due to latency, but it could, and should, be enabled for Wi-Fi–if not over the Internet, then at least for local multiplayer play. Imagine using your Windows Phone 7 device as a small, remote screen for Xbox 360 games, or playing interactive games on your handset that work together with and enhance the game you're playing on your PC or Xbox 360. These are exciting ideas that no other phone platform can really offer right now, but Microsoft hasn't tapped into the possibilities.
The good news is, all the Xbox Live stuff is free. On the Xbox 360, Microsoft has a free tier of Xbox Live and a paid Gold membership that carries with it specific benefits, chief among them the ability to play online multiplayer games. On Windows Phone 7, as with Games for Windows Live, all aspects of the service are available at no cost.
Next: Room for Improvement
Software Troubles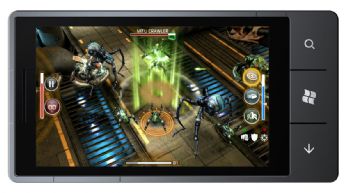 Even if the depth and breadth of games improve dramatically, and even if Microsoft fully exploits Xbox Live on Windows Phone 7, the platform could use some improvement in other areas.
Take the Zune software integration, for example. You can buy, download, and sync music and video to your phone via the Zune desktop software. You can also browse and buy apps, including games, but they don't actually download to your PC and then sync to your phone. Rather, the software seems to signal to your phone that the app has been purchased, and the phone downloads the item on its own. If you're not on Wi-Fi, that data use can add up fast. The Zune desktop software doesn't even keep a library of the apps you have bought, as it does with music and video.
Browsing through Windows Phone 7 apps is a bit rough in the Zune software, too. Screenshots are too small, and they're all in portrait orientation even when the app is designed to be used in landscape mode–this is especially a problem for games, most of which are made for playing in landscape orientation. Applications list their release date, but you can't easily see if or when an app has been updated, and what those updates added. Some apps are miscategorized as games, such as an app called Films (which lets you browse your Netflix queue) or another one dubbed Stopwatch (which is just what it sounds like).
Assuming that Microsoft cleans up these nagging issues in the desktop client and in the storefront, Windows Phone 7 devices themselves still need some improvement. Games appear unable to extend or deactivate the sleep timer for a device: Set your phone down for a minute to run to the bathroom or answer the door, and you'll come back to a dark screen. Wake your phone up from sleep, and you all too often need to relaunch the game rather than resume where you left off. Most games I tested ran smoothly and quickly, but I saw odd moments of stuttering, and some of the load times are unusually long.
Developers, Developers, Developers
Although developers seem to love how robust and easy to use the development tools for Windows Phone 7 are, those tools could make building premium games a challenge. Applications, games included, appear to have no access to the camera. This problem prevents the creation of apps such as Layar, or of augmented-reality functions like those in Yelp and other apps on iPhone or Android. It also precludes augmented-reality games.
Microsoft's development tools use a custom, free version of Visual Studio 2010 with Expression Blend and Silverlight. Most Windows Phone game creators will build their projects with a special version of XNA Game Studio, just like what indie developers use on Xbox 360. These tools make it easy to get an app up and running, but they can be limiting for major game development. Access to the underlying hardware is somewhat restricted, and developers can't really use third-party 3D game engines, something that is becoming all the rage for premium smartphone games. John Carmack recently showed off the hot Id Tech 5 engine powering Rage on the iPhone. Epic Games will license the Unreal Engine for iOS developers; you can get a taste of it by downloading Epic Citadel today from the App Store. The popular Unity engine supports iOS and Android, and is already used in a large number of games. You won't see any of this on Windows Phone 7 unless Microsoft either changes its rules or allows exceptions for specific developers or publishers on a case-by-case basis.
Next: It's Only the Beginning
Only the Beginning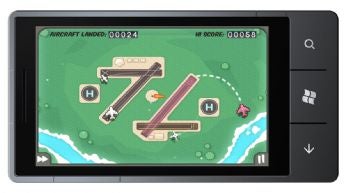 It's safe to say that Microsoft is off to an auspicious start with gaming on Windows Phone 7, but it's just that: a start. Xbox Live brings some good features, and Microsoft's relationships with major game developers and publishers have helped to seed the new platform with a number of top-tier titles.
Already the gaming situation is at least on a par with that of Android, whose Android Market is two years old. Microsoft has a long way to go to catch up to the strong gaming presence of Apple's App Store, but if sales are strong and if Microsoft continues to enchance the development tools, that should be only a matter of time. Issues with the Windows Phone Marketplace, from poor screenshots to miscategorized titles, could be rectified relatively easily. Xbox Live integration is basic right now, but Microsoft has lots of opportunities to introduce expanded features and integration with the Xbox 360 console and Games for Windows Live.
This is as strong a gaming presence as I've seen for a brand-new phone platform, but Microsoft is competing against well-established markets and has to make rapid improvements to keep the gaming market healthy on Windows Phone 7. The way forward is clear. If I may be so bold as to create a checklist for Microsoft (in no particular order):
Integrate Xbox Live Extras into the main game hub.
Enable notifications for Xbox Live messages, and game invites for Xbox 360 or Games for Windows Live games.
Enable voice-message support over Live.
Greatly expand the game library, and make it easier to see games that aren't Xbox Live enabled.
Clean up the desktop Zune client by implementing better support for app images and better downloading and syncing of apps.
Enhance developer tools by opening up hardware access and supporting third-party game engines.
Clean up device issues such as resuming from sleep and allowing games to extend the sleep timer.
Enable real-time multiplayer play over Wi-Fi.
Tighten integration between phone and console with titles that cross between platforms.
If Microsoft can do these things over the next six months or so, in addition to selling a good number of phones, the company could easily have the premier mobile-games platform. If not, it will likely concede the market to Apple. The bad news for Microsoft is that it has its work cut out for it. The good news is that it's off to a good start, and Windows Phone 7 doesn't have any problems that can't be fixed with a few major, rapid software updates.