Throw another Verizon iPhone rumor into the quickly-growing pile.
The latest scuttlebutt comes from Fortune magazine, citing multiple sources that say the Verizon iPhone will launch in early 2011. It will reportedly be an iPhone 4, running on Verizon's CDMA network, and for U.S. users there won't be any special chip for operating the phone outside the country.
If you've been following these rumors, chances are you've heard some of this stuff before. A few weeks ago, the Wall Street Journal reported that Apple will start mass-producing a Verizon iPhone at the end of this year for an early 2011 launch. The Journal tipped Taiwan-based Pegatron Technology Corp. as the manufacturer, same as an earlier report from DigiTimes.
That the Verizon phone will supposedly be an iPhone 4–and not some newer model–was also a rumor in August by John Gruber, who writes the Daring Fireball blog.
What's new this time? Not much in terms of details on the phone itself, but the rumor comes wrapped in a lengthy profile of Verizon Chief Executive Ivan Seidenberg. Both he and wireless chief Lowell McAdam are quoted, and they're candid about the company's relations with Apple over the last few years.
After Verizon turned down the original iPhone, McAdam said he set out to mend relations with Apple in late 2007, once complaints about AT&T's network began to mount. In a December 2009 meeting, Apple Chief Executive Steve Jobs praised Seidenberg for making good decisions. "I think he began to look at us as having a slightly bigger IQ," Seidenberg said.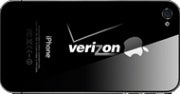 Fortune reports that the iPad, which Verizon Wireless began selling in its stores this week, was the "first fruits" of ongoing discussions between Verizon and Apple. A Verizon iPhone would appear to be the next step. The story describes the device as a "fait accompli."
Apple has a reputation for secrecy and controlling leaks, but the sheer volume of Verizon iPhone reports, all telling the same story, suggest that it's just a matter of time before Jobs announces the darned thing. At this point, even Verizon can barely contain itself.