Whether you like your Halloween spooky or silly, you have plenty of time to get in the mood over the weekend. These free and low-cost picks from the PCWorld Downloads library will haunt your desktop and your thoughts. The prices won't give you nightmares, though: Two of these have free demos, and the rest are free forever.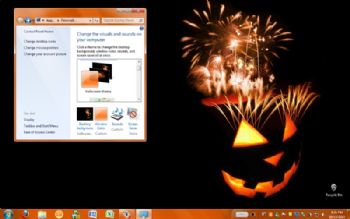 Decorate Your Desktop in Darkness
If you're running Windows 7, install the customizable Halloween Theme (free) to get a glowing jack-o-lantern minus the slimy seeds. PCs running older operating systems can run the ALTools Haunted House Halloween Desktops (free).
If your screen still doesn't look sufficiently sinister, try the eerie Halloween Screensaver (free). Enjoy an animated story with the free Halloween Adventure Screensaver. For the younger set, try the less scary but equally free Welcome to Halloween Screensaver. As with many free screensavers, read the installation carefully and uncheck boxes as needed to make sure you're not installing extra programs that will jump out and say "boo" later.
Games Goofy and Ghostly
Our reviewers dug up (and just plain dug) Plants vs. Zombies ($20, free demo), a "flower defense" game that's more about tickling the funny bone than gnawing on it. Mysteries lurk in a gloomy mansion throughout hidden object game Mystery Case Files: Return to Ravenhearst ($7, free demo). If you'd rather hang out in an arcade than a zombie-infested suburb or a haunted house, try Halloween Heist (free) for some Pacman-style play.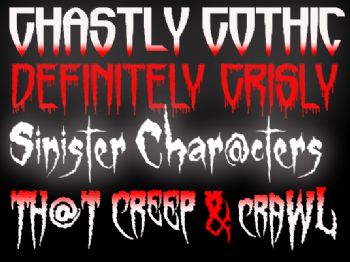 Create Sinister Signage
Amp up the Halloween atmosphere by printing your own messages in fonts from Sinister Visions Font Quartet (free). This pack of four fonts from horror designer Chad Savage artfully captures the feel of Halloween. The Gothic-styled, dagger-tipped HorrorMaster makes scary signs of the "Abandon Hope, All Ye Who Enter Here" type. HorrorFind takes the stage with a more contemporary style dripping with gory slasher-movie ambience. The jittery, nibbled-looking Spiderfingers will send chills down your spine. With both uppercase and lowercase characters, Gypsy Curse is the best-suited of these for longer writings. All four reside in the same download, so you can try all of them before the first trick-or-treater rings the doorbell.