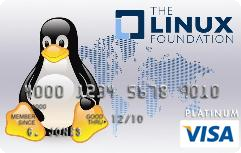 What is the coolest thing for a Linux fan to carry in their pocket? Why, the new Linux Tux credit card! The Linux Foundation teamed up with UMB Bank and CardPartner Inc. to create the Linux-branded Visa card. It's pretty much your typical credit card, except that, by applying for the card, you are also helping to promote Linux.
For every card that gets activated, Linux gets $50 and percentage of every transaction made on it, which goes straight into their innovation program. That means doing things such as providing travel grants for open source community members and funding Linux's technical events.
Anyone who gets the card–which you can get Linux events as well as online–has two different designs and Tux posings to choose from, as well as a bonus-points reward scheme for stuff like free airline tickets.
So, get a cool looking credit card and help out an operating system company; win-win right? Unfortunately, the card is only available if you live in the US. And thanks to a lack of partnerships in other countries, that won't be changing anytime soon either–a mega shame for Linux. But for you US citizens, have fun getting that credit while geeks in the rest of the world look on in envy.
[The Linux Foundation, via Download Squad]
Like this? You might also enjoy…
Follow GeekTech on Twitter or Facebook, or subscribe to our RSS feed.