Feeling overwhelmed by the uproar of political messages clamoring for your attention online? Finding it difficult to distinguish political fact from political fiction?
A new Website called Truthy–started by researchers at Indiana University–hopes to help you.
Truthy searches through the tens of thousands of political tweets that are posted each day, looking for new political memes–ideas that spread and replicate like genes on the Internet. Once it has identified a meme, Truthy tracks it back to its source to determine how it spread. It also collects data on the meme's variations and spinoffs.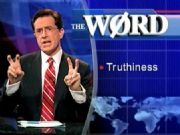 Once it has collected all this information, Truthy feeds all the data through specially designed classifier software that attempts to evaluate whether the meme is true or merely "truthy." The site's name is derived from "truthiness" a word coined by Comedy Central's Steven Colbert, in his comedic role as a blowhard conservative pundit, to refer to knowledge drawn intuitively without regard to factual evidence, logic, or intellectual rigor. The word now appears in the New Oxford American Dictionary, with an attribution to Colbert.
The Truthy site defines itself this way: "We are a non-partisan research group. The memes we track are the results of automatic detection algorithms based on a large and comprehensive set of keywords including the names of all candidates, districts, and other terms related to the upcoming elections. The mix of the thousands of memes that you can see on the site is simply a reflection of the active chatter in the Twittersphere." More information is available on Truthy's FAQ page.
What Truthy Tells You
The data that the site collects also helps Truthy to compile various statistics about each meme, such as the number of users who've tweeted about it, the number of tweets per user, and even the emotional content of the meme. [Listen to a Truthy researcher explain how the analysis works.]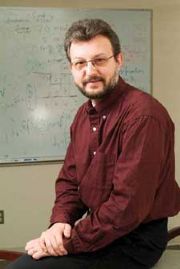 Dr. Fillipo Menczer, Associate Director of IU's Center for Complex Networks & Systems Research, works on Truthy with a team of three other professors and five graduate students.
What are the attributes a suspicious meme? Menczer points out one specific example found on Truthy's gallery site: "We have these roughly ten [Twitter] accounts that are all traced back to one person. They all point to particular Web pages all on one Website. Some of the tweets generated by these accounts are to attack Chris Coons [the Democratic candidate to replace retiring Delaware Senator Ted Kaufman; his chief opponent is Republican candidate Christine O'Donnell]. Saying for instance 'here's how Chris Coons will make millions on cap and trade.' If you click on [the links], you go to this Website that has no attribution…"
Menczer stresses that his team can't say for certain whether the messages about candidate corruption constitute an orchestrated smear, but he argues that the retweeting pattern of the accounts, discovered by graduate student Jacob Ratkiewicz, renders the meme suspect. [Follow Truthy on Twitter.]
How Truthy Started
The original idea for Truthy arose in reaction to an attempt by a group called the American Future Fund to influence the Massachusetts special Senatorial election to fill the late Senator Edward Kennedy's seat through an organized Twitter misinformation campaign, according to a story in the Boston Globe.
The Globe report focused on findings by researchers at Wellesley College that the American Future Fund appeared to be responsible for setting up nine accounts that sent 929 tweets over the course of about 2 hours attacking and spreading misinformation about Democratic candidate Martha Coakley's record–a method that the researchers called a "Twitter-bomb."
The messages would have reached about 60,000 people before Twitter realized they were spam and shut them down, according to the Wellesley researchers. The retweeting was so widespread that–at one point–the meme popped up on the first page of Google search results on Coakley.
What's Next for Truthy?
"In the short run, we're focusing on the [November] elections," Says Dr. Menczer, "In the long term, we're looking into automatically detecting truthy memes." Truthy currently analyzes the truthiness of memes by crowdsourcing them, but the IU team has some concern that sophisticated online operatives might game this system, thereby decreasing the value of Truthy as a fact-finding tool.
Once the kinks have been worked out, the team hopes to extend the tools that Truthy uses to other domains. Michael Conover, another graduate student in the team, would like to investigate tweets made immediately after natural disasters–circumstance where rumors are likely to start quickly.
The team is also trying to see whether Truthy can help answer some general questions about how information propagates through social media like Facebook and Twitter.
Menczer says that the Truthy team is currently seeking funding for research aimed at determining what makes people retweet some things but not others. "We'd like to see if we can make predictions about what's going to be popular," he says.
For additional election-related tech news stories, see "E-Voting Concerns Overblown, Officials Say" and "Change in Congress: Business as Usual for Tech."