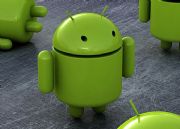 The Android army may soon claim Research In Motion's BlackBerry as its first victim in the smartphone war. Between July and September, 44 percent of new smartphone users in the United States bought a Google Android phone, according to market research firm NPD Group. During the same period, 23 percent of the users bought an iOS device and 22 percent purchased a BlackBerry. NPD's report is another sign of Android's growing market power, and RIM's dramatic decline. But the battle for smartphone supremacy is far from over, and it's unclear whether Android can continue its impressive growth.
Android by the Numbers
Android outsold RIM by 2-to-1 and nearly did the same to Apple's iOS during the third quarter. Devices based on Google's smartphone OS increased by 11 percentage points in comparison to the second quarter of 2010, while RIM fell by 6 points and Apple rose by 1, according to NPD.
What is most stunning, however, is NPD's assertion that RIM's market share among new smartphone users in the U.S. fell by 53 percent when compared with the third quarter of 2009. NPD failed to mention how much Android rose or fell compared with those numbers, but the research firm said Apple's iOS also fell by 21 percent in that quarter.
Android Isn't the Top Device
Despite Android's growing strength overall, NPD found that Apple's iPhone 4 was the most popular mobile phone purchased by new users. BlackBerry Curve 8500 series devices came in second, followed by the LG Cosmos (an Internet-capable feature phone). The Android-based Motorola Droid X and HTC Evo 4G came in fourth and fifth.
Android's Long and Winding Road
Android has been the top smartphone OS for several quarters, but it isn't growing fast enough to beat out the iPhone and RIM in terms of overall user adoption. The most recent numbers from the Nielsen Company indicate that Android has 19 percent of all smartphone users in the U.S., while the iPhone has 28 percent and BlackBerry leads the pack with 30 percent adoption overall.
But Android's growth may slow in the next few months as new contenders attempt to take a bite out of the smartphone market. Next Monday, nine Windows Phone 7 devices from Microsoft will go on sale, and new smartphones from HP using an updated version of WebOS are expected to hit the market in early 2011.
If the rumors are to be believed, Apple's iPhone may also extend its reach in 2011 by expanding the popular smartphone to other U.S. carriers.
Smartphone Rising
Nielsen reports that during the most recent quarter 41 percent of new mobile phone buyers in the U.S. opted for a smartphone over a feature phone — up 6 percentage points from the previous quarter. If that trend continues, expect to see a lot more competition among smartphone manufacturers in the coming months. The big question, however, may not be whether Android can rise to the top spot. But whether RIM can turn around its declining user adoption rates to remain a viable top 5 smartphone manufacturer against a slew of innovative devices from Apple, Google's numerous Android partners, HP and Microsoft.
Connect with Ian Paul ( @ianpaul ) on Twitter.