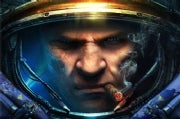 If your Halloween weekend festivities kept you away from watching the Global Starcraft League or MSI Evil Geniuses Master's Cup, don't worry. Just read on for a quick recap of the highlights and you'll be ready for the next round.
Global Starcraft League Round of 8 Concludes
As of this morning, the GSL round of 8 has ended, leaving only four players left: Jung-Hoon "Boxer" Lee, Sung-Je "IntoTheRainbow" Kim, Jae-Duck "NesTea" Lim, and Yo-Hwan "SlayerSBoxer" Lim. (For instructions on how to watch the Global Starcraft League, read our previous eSports Update.)
The highlight of the first day of the GSL round of 8 was undoubtedly the Boxer vs. Kyrix (Terran vs. Zerg) series. Typically, early aggression with speed-upgraded Zerglings and Banelings readily destroys a Marine-heavy Terran army–but apparently no one told Boxer. Instead, Boxer masterfully micro-managed his Marines to a nail-biting victory in the first match, which you can watch for free at GOMTV.net.
Boxer was something of a dark horse player going into this GSL season because no one had ever heard of him, and he "borrowed" the gaming alias of the legendary Yo-Hwan "SlayerSBoxer" Lim. However, a few of his skillful plays in this series with Kyrix have made veteran Starcraft fans remember the first time they saw SlayerSBoxer move his Marines.
The second day of the round of 8 started off with a rather ho-hum Zerg vs. Zerg set: NesTea dominated Zenio 3-0. However, the next match saw two Starcraft: Brood War legends collide. SlayerSBoxer and Yoon-Yeol "NaDa" Lee both dominated the Brood War tournament scene in their respective heydays, and to see them play in the quarterfinals was the Starcraft equivalent of building a time machine so a boxing fan could watch Muhammad Ali vs. Mike Tyson.
Needless to say, their set didn't disappoint. NaDa shook off SlayerSBoxer's early Banshee harassment in the first game (watch it here) and won it handily with superior Siege Tank positioning, but SlayerSBoxer returned the favor in game 2 with a bold Tank/Marine flank that cost NaDa his natural expansion and slashed his economy. NaDa tried to change the tune in game 3 with an early upgraded Hellion drop that torched SlayerSBoxer's economy early on, but he tried to press his economic advantage too early and ended up losing his Thor/Hellion army in a poorly timed attack. Finally, NaDa pulled out all the stops in game 4 with some slick Ghost play, using Nukes to threaten SlayerSBoxer's Siege Tanks and push them out of position, but it simply wasn't enough.
Next round: Boxer vs. last season's second-place finisher HopeTorture on November 4th, and NesTea vs. SlayerSBoxer on November 5th. Personally, my fingers are crossed for a Boxer vs. SlayerSBoxer finals.
MSI EG Masters Cup: HuK Wins, Loses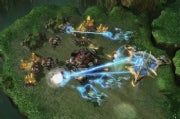 Meanwhile, the best players on the other side of the world gathered for the MSI Evil Geniuses Masters Cup, a 16-man tournament. The winner of the tournament received a $1000 grand prize, but if they could beat the Evil Geniuses' top gun Greg "IdrA" Fields in a best of five set, they'd also get an MSI GT660 laptop.
Fan favorite Chris "HuK" Loranger's Protoss army made it look easy. He waltzed into the semifinals without losing a single game, where he faced off against EG.Machine, beat him 3-1, and found himself in the finals against ROOT.SLush. One 3-1 series later, HuK won $1000–and a shot at IdrA. You can watch the series on Ustream.tv.
HuK managed to take the first game (watch the replay) from IdrA by steamrolling IdrA's Zergling/Mutalisk army with a perfectly-timed Zealot/Stalker/Sentry attack. However, IdrA rallied back to slam HuK three straight games in a row, dominating him with Roach-heavy play and his characteristic big-army, production-heavy strategy. This makes three tournaments in a row where HuK has lost to IdrA (King of the Beta and MLG D.C. being the first two)–and with MLG Dallas coming up this weekend, this might be HuK's last chance to break his losing streak in 2010.
Explaining The Game: Build Orders
Confused by the announcers? Here's a tip–when they say "13 Gateway", they aren't saying "Build 13 Gateways", though even high-level Korean players like CellaWeRRA can make that mistake.
While each player in Starcraft II starts out with roughly the same stuff, the buildings and units they decide to build early on can affect the game in dramatic ways. Go for the high-tech units too quickly, and you'll leave yourself vulnerable to early attacks. Spend too much money on an early army, and you'll be behind on resources later in the game.
When the announcer says "13 Gateway", it's shorthand for the kind of opening the player is using. The number typically represents your supply count (the number of units you have in play, roughly), and whatever comes after the number indicates a key structure or unit. Thus, "13 Gateway" means "continuously build workers until you hit 13, then build a Gateway", "6 Pool" means "skip building workers and go straight for a Spawning Pool for early Zerglings", and so on.
Like this? You might also enjoy…
Follow GeekTech on Twitter or Facebook, or subscribe to our RSS feed.