What does Facebook co-founder Mark Zuckerberg have up his sleeve for Wednesday's mysterious November 3 Facebook Mobile Event? Is it the rumored Facebook phone we've heard of?
While kibitzers readily admit they have no inside knowledge of what the leading social network has up its sleeve, that isn't stopping them from speculating up a storm about what might go down tomorrow at 10:30 a.m. PDT.
Foremost on the minds of the ruminators is the possibility of a Facebook phone. Sure, this mythical device has been denied by the Big Man himself, Zuckerberg, but, in the high tech world, today's denial has a way of being tomorrow's new product.
Facebook could announce some development in its strides to be more deeply integrated into the handsets of some manufacturers. The network is reportedly working with ING Mobile on two smartphones that will feature Facebook social networking services. The phones are expected to be released in Europe in the first half of next year and in the United States in the second half of 2011. The odds that official word of the phones will be part of the conference are long–50 to one, according to the Unplugged website.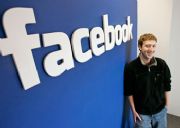 TechCrunch's Jason Kincaid says a Facebook app for the iPad is an "obvious" possibility. Although Facebook hasn't created an app for the iPad, there are some pretty good apps out there for the network, such as Social, so it certainly would be interesting to see what Facebook would bring to the app table.
Another possibility raised by speculators is the unveiling of a "deal of the day" service (similar to Groupon) that is tied to Facebook's "Places" feature.
"Facebook has recently been testing a Deals service that's connected to Places, and mobile is obviously the best place for users to access those," Kincaid speculates. Unplugged agrees, and thinks the odds that a "Facebook Deals" announcement at tomorrow's shindig are good–five to one.
Although it doesn't have the wow factor of some of the other rumors raised on the 'net, there's also the possibility that Facebook will be revealing a new SDK for app developers (for the development of Facebook mobile apps). Unplugged gives this rumor the best odds of all–two to one. The odds that Facebook will announce an apps store to go along with the new developer's kit are a bit longer, though, at ten to one.
Naturally, nobody will know what goes down til it…actually goes down. Come back tomorrow (November 3) at 10:30 a.m. PDT, and follow PC World's live-blog of the event..