Microsoft is really working the "save us from our phones" angle for Windows Phone 7, claiming that its platform is 20 percent more efficient than rivals like the iPhone and Android. Computerworld reports on internal Microsoft research, which found that common tasks require fewer steps on Windows Phone 7.
Really? I happen to have an iPhone, a Droid Incredible and an HTC Surround with Windows Phone 7 right here (Sorry RIM, Palm and Nokia. Maybe next time?) Let's take a look at some common tasks and see how they fare.
Checking E-Mail
E-mail is one of my most compulsive smartphone-checking activities — the very behavior Microsoft is rallying against — but I don't see how checking e-mail is more efficient on Windows Phone 7 than any other device. In fact, Android's use of widgets makes glancing at e-mail a breeze. You can even get an app called FlyScreen to display e-mail or other widgets on the lock screen. At a glance, Windows Phone 7 only shows the number of e-mails you've received, but no actual content. Winner: Android
Text Messaging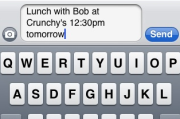 I happen to like Apple's text message system, which delivers new messages in big, obnoxious pop-ups with the option to reply or dismiss, but it can be a nightmare for people who text constantly. Subtler approaches on Windows Phone 7 and Android might be more efficient for power texters, so the messages don't disrupt other activity. Winner: Toss-Up
Calendar
I like how Windows Phone 7 automatically shows your next event in tiny text on the lock screen, and in its own tile on the home page. The ability to "snooze" on an event is pretty nice as well. Apple's app-centric approach is too buried to be efficient, and Android, while close in capabilities, is just a little clumsier to use when adding events. Winner: Windows Phone 7
Switching Between Apps
Though I really don't like the clutter of the iPhone's auto-populating task tray, Apple's version of app-switching is still the easiest among the major platforms. Just double-click the home button and tap the app you want to restore, and the phone goes back to where you left off. Android doesn't have a task tray by default — third-party apps will do the job — and Windows Phone 7 has no fast-switching or third-party multitasking at all. Winner: iPhone
The Big Disclaimer
I've only scratched the surface of common phone activity, so maybe it's a cop-out to say each phone has its strengths and weaknesses. But the reality is that each user has different needs, preferences and competencies, so to declare one phone as unequivocally more efficient than the rest seems silly — almost as silly as believing internal research that boasts a company's own product.