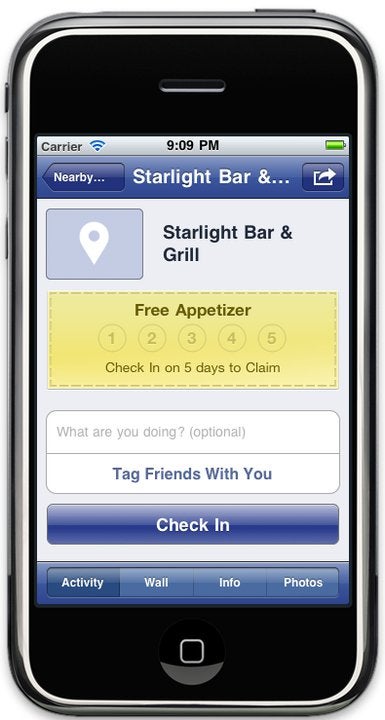 Facebook is stepping up its mobile game with the launch of location-based services that both ease the pain of the mobile log-in process and allow your neighborhood store to shoot you coupons directly to your phone as you walk by.
The announcements are part of refreshed Facebook mobile apps for Android, iPhone and touch.facebook.com. The company says the Android app should be available to users starting Wednesday via the Android Marketplace, and Facebook for iPhone version 3.3 is also coming soon. One aspect of the new Facebook mobile app is a new Single Sign-on feature. During the launch event at company headquarters, Facebook CEO Mark Zuckerberg also took the opportunity to once more deny that Facebook was building a mobile handset.
Here is a breakdown of what was part of Facebook's Mobile Event press conference.
Single Sign-On
Using Facebook Connect on your mobile phone just got a lot easier with the addition of Single Sign-on. The new functionality will let you log into Facebook on your phone once, and then use your Facebook account to sign into third-party apps such as Groupon without needing to re-enter your password or user name.
To use the new functionality, however, mobile applications that use Facebook Connect will have to update their apps as well before the functionality will work. Single Sign-on will debut with several Facebook partners Wednesday including Zynga, Groupon, Loopt, Scvngr, Yelp, Flixter, Booyah. Social game maker Zynga also announced it would be debuting its first Android application: Zynga poker.
Facebook Places API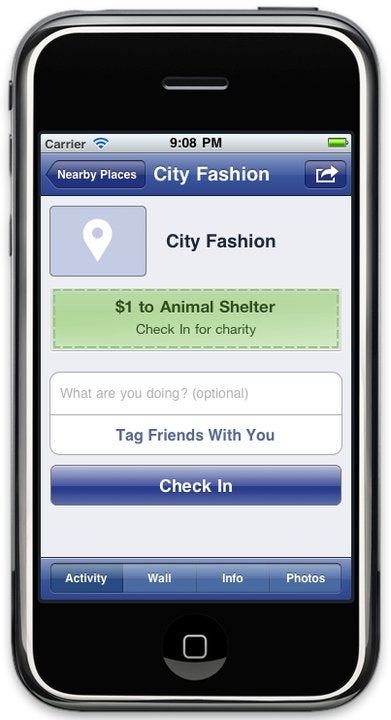 Facebook has big plans for its location-based features, and is hoping to become the lynch pin for all location-based services.The problem with many location-based services such as Gowalla is that you can't see who is checked in using Places unless you open the Facebook mobile application. Now, however, the Facebook Places application programming interface (API), will let you see other users' check in on other services. So you can check into location-based networks such as Loopt, for example, and see who is checked into Gowalla, Places, Yelp and any other location-based services using the Facebook Places API.
Deals Facebook mobile users can now get deals pushed to their phone from participating merchants thanks to the social network's new Deals platform. If you were walking by a participating coffee shop, an alert could be pushed to your phone letting you know that the coffee shop is offering a 25-percent discount on a coffee and pastry. If you want to buy, you just accept the deal on your phone, and show the virtual coupon that appears on your handset's screen to the coffee shop's cashier.
Merchants can choose to categorize their deals based on random passersby, repeat customers, Facebook friends and Deals can even be used as part of a charity drive. Outdoor gear maker The Northface, for example, says it will donate $1 to charity when someone checks in to a Northface Store or national park.
The Gap will be one of Facebook's initial launch partner for the Deals platform and is offering free jeans to the first 10,000 Facebook mobile users to claim the deal. Expect to see 22 other Deals partners soon from major brands such as McDonald's, H&M, American Eagle Outfitters, Lululemon, the San Francisco 49ers, Macy's and JCPenney. Local brands and services in your area can also sign up to offer deals. At launch, the Deals platform will only be available on Facebook's iPhone mobile application.