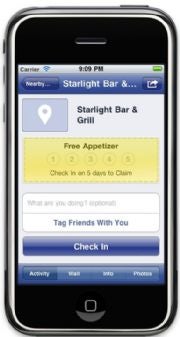 Facebook's new deals platform will offer users discounts to check-in at shops, restaurants, and museums via Facebook Places.
Facebook signaled its intention to be a bigger part of your mobile life Wednesday after launching several new location-based features for iPhone, Android and touch.facebook.com. The company wants to turn Facebook Places into a hub for all your check-in activity including from services such as Gowalla, Yelp and Loopt. Facebook is also launching a single sign-on feature that makes it easier for you to log-in to third-party services on your phone using your Facebook ID.
But the biggest announcement was the new deals platform, which gives users financial incentives to check-in to businesses using Facebook's Places feature.
For Places to be successful, however, Facebook needs to shed its reputation for triggering new privacy concerns every time it launches a new feature. Facebook started improving its privacy image in October when it announced three new features that gave users greater control over their Facebook data.
But that was followed a few weeks later by the revelation that some Facebook developers were selling user information to data brokers who specialize in helping ad firms precisely target you with advertising.
The refreshed Places could be a big winner for Facebook, not to mention a threat to its location-based competitors such as Foursquare and even Google. But there's also a chance this could turn into yet another one of Facebook's many privacy disasters.
More data
To take advantage of Facebook's new deals program you have to first reveal your location to Facebook by checking in to Places. Then any deals in your immediate vicinity will show up on your handset (iPhone-only for now). Say you wanted to take advantage of a 25 percent discount offer at H&M. All you have to do is check in at the clothing retailer, and then show a virtual coupon to the cashier or salesperson to receive your discount.
The great thing about this new deals platform is that it gives businesses an incentive to offer discounts and deals to new and returning customers. But claiming deals also means that Facebook will be privy to your shopping habits. Some deals will include loyalty-based offers such as "buy 9 pizza slices at Lou's Pizzeria and get the 10th one free." Knowing that you're a huge pizza fan and that you check-in to Lou's for lunch every weekday is a great data point that could help Facebook target you more precisely with Facebook ads. That kind of data would also be a gold mine for third-party advertisers, if they can get their hands on it.
The big question is how your deals data will be handled, and whether companies other than Facebook can get a hold of this information to build a profile of your purchase patterns.
This isn't the first time the company has offered a service that pulls your purchases into Facebook. In 2007, the company launched the ill-fated Beacon service that sent actions you took on third-party Websites back to Facebook, including purchases on sites like Fandango and eBay.
Competition
Facebook's new location services also puts it squarely in competition with Google's mobile products such as Buzz and Place Pages for shops and services that include maps, contact information and user reviews. It's a safe bet that more people are now more likely to use Facebook than Google to find nearby services since the social network is offering a financial incentive to use Places.
Facebook's deals platform also challenges location-based pioneer Foursquare, which also offers financial incentives for check-ins. Foursquare offers deals to its mayors–people who check-in the most at a certain location–and check-in deals for non-mayors, such as happy hour specials and early bird discounts. Will Foursquare's gaming features (something that Facebook Places doesn't have yet) be enough to keep its users engaged?
What's the endgame?
One thing that wasn't addressed during Facebook's announcement Wednesday was mobile advertising. At some point, deals and location-based services in general are likely to lead back to advertising. It's not clear if Facebook is planning to create a mobile advertising platform or if the company plans on charging businesses for the right to offer location-based deals in the future–right now companies can offer deals on Facebook for free. Then again, maybe Facebook just wants your deals data to target ads more precisely on Facebook.com.
Whatever the company's plans, it's certainly off to a strong start in the mobile space. Facebook said Wednesday that 200 million of its 500 million members are using its mobile applications.
Connect with Ian Paul ( @ianpaul ) on Twitter.