Facebook announced some cool new mobile tricks today, including the ability to offer special deals to Facebook users who participate in the Facebook Places location-based service.
I downloaded the Facebook mobile app from the Android Market soon after I got my phone, and until Facebook Places launched a few weeks ago I didn't feel much need to use the app while I was out and about. With Deals, however, Facebook Places turns into something more than just "checking in." Facebook's new Deals program gives mobile users a "social" way of discovering–and taking advantage of–special bargains from Facebook's partner businesses.
How It Works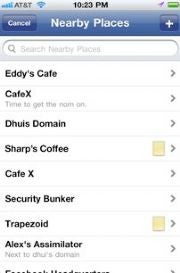 You're walking around downtown. You stop walking (we hope) and open the Facebook app on your mobile phone. You can see at Facebook Places that several companies in the area are posting deals for Facebookers. For instance, one of Facebook's retail partners at the program's launch is the Gap, so if you were interested in getting 20 percent (or whatever the deal happens to be) off a pair of blue jeans, you could walk to the Gap store, check in there via Facebook Places, and–presto–you're eligible for the deal.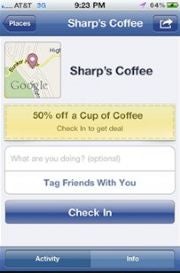 Or you might notice that a nearby restaurant is running a deal saying that if you check in with three of your friends you can get a free appetizer or the like. That's the example Facebook founder Mark Zuckerberg cited at the announcement in Palo Alto today. He calls Deals "a way of unlocking new social experiences that have never existed before."
Another way to find out about a deal is just by seeing in your newsfeed the offers that your Facebook friends have posted at their Facebook pages.
Check out this Facebook Deals video to see how Facebook imagines the service working.
And if you want to try it out, take a look at the list of Facebook partners currently participating in the Deals program. You can do some Deals on the new Facebook Android app now, and on the iPhone app starting next week.
What May Be Coming
Concievably, Facebook Deals partner companies could push deal notifications to you based on your physical location. Here's an example of how that would work: A department store knows from Facebook Places that you are near one of its stores. It also knows from Weather.com that it is raining. Believing that the chances you'll need a new umbrella are reasonably high, the store could push a deal notification to your phone saying '10 percent off umbrellas–today only'. For the retailer this is a valuable opportunity, because the likelihood of your taking it up on its offer is much higher than if you saw one of its ads in a newspaper or online.
Facebook says, however, that its partner companies will not be pushing deals at this stage of the program. Not yet, but they probably will, in some form, in the future. Zuckerberg says his company is not taking a cut of the profits from sales made as a result of deals offered on its platform.
Among analysts, the common thinking was that Facebook would like to extend its powerful platform onto mobile devices so that its advertising partners could target ads on mobile devices, based on location as well as on the personal information Facebook has already collected about users at its site. With Deals, though, Facebook appears to be taking a softer approach for now. Instead of flashing banner ads on your phone, it's working with its partner companies to let Facebook users discover deals, socially. Again, Facebook and its partners might not always be so passive about their use of the knowledge of where you are.
I asked Facebook founder Mark Zuckerberg today how his company would benefit from allowing its partners to offer location-based deals. Zuckerberg simply repeated that it was all about creating a brand-new kind of user experience (mobile, social shopping) and that Facebook is not talking about the underlying business model at this point.
I did notice, however, that the Facebook executive giving the Deals portion of the presentation was Tim Kendall, the company's director of monetization.
What About Privacy?
As more and more Facebook partners begin leveraging Facebook's vast store of user data (now with real-time location data), some people may get a little nervous about privacy issues. When Facebook, or an app, starts showing us content based on who we are, who our friends are, and where we are right now, the result may be a bit creepy–depending on how far Facebook takes the concept.
Facebook's response is that in the Deals program–and in the mobile realm in general–the company is using no more of your data than it does already, and that everything is "opt-in." The fact is, however, that many users will not think twice about opting in if it means getting a free latte for checking in at Bill's Coffee House.
Personally I didn't have too much of a problem with Facebook being aware of my physical location in Places. But now, the company and a bunch of marketing partners are using that data to sell products. They are acting on the location data I'm giving, and that changes the privacy picture.