Facebook unveiled Deals for Facebook Places–making adversaries out of location-based check-in partners Foursquare and Gowalla, and giving Facebook users incentive to embrace Facebook Places. Facebook Deals also provides merchants that have a Facebook presence with a valuable marketing tool to drive traffic and bring in customers.
Facebook Places has been around for a couple months, letting Facebook users let their social network know where they are and what they're doing, but it has lacked incentive. Foursquare at least made it a competition of sorts–a challenge to accumulate badges and become the "mayor" of a given location. In some cases, Foursquare even provides a financial incentive to check-in by partnering with businesses like Starbuck to promote and offer deals.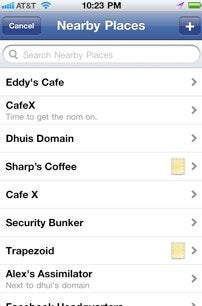 The new Deals function means businesses will be able to offer bargains and discounts with Facebook Places as well. The 500 million plus Facebook users will now have an incentive to check-in on Facebook Places while on the go, and businesses have more of a vested interest than ever to establish a Facebook presence and claim their Facebook Place.
Deals gives businesses a way to offer bargains and discounts to drive traffic and build customer loyalty. When you create a deal, you can promote it to your Facebook followers–those who subscribe to, or "Like", your Facebook Place. Facebook Deals will also push notifications to the Facebook mobile app when a user is near a location offering one.
The average number of Facebook friends per user is 130. That means that when a Facebook user checks in on Facebook Places or takes advantage of a Facebook Deal offered by your business, you immediately have word-of-mouth exposure to 130 other Facebook users. The snowball effect that can result if those 130 act on the deal as well can create exponential marketing for your business–making Deals a potentially valuable tool for promoting your business.
Facebook Deals is in beta for now, and it is being introduced on a limited basis. When it is available for your business, you will see a button on your Facebook Place titled "Create Deal" under the banner of Marketing.
You can create one of four different kinds of deals–Independent, Friend, Loyalty, and Charity. Which one you choose will depend on how you want to promote your business.
Individual deals reward customers with a simple discount or other incentive for checking-in on Facebook Places at your business. The Friend deal promotes more traffic by providing incentive for friends to visit your business together. The Friend deal provides similar rewards as the Individual deal, but only if enough Facebook users check-in together.
The Loyalty deal drives repeat business by offering a reward or discount after a specified number of Facebook Places check-ins somewhere between two and twenty visits. Finally, the Charity deal gives businesses a way to market and promote while also contributing to a good cause. With the Charity deal, your business pledges to donate to a given charity in exchange for users checking in at your location.
Facebook gives business control over when and how the deals work. You can set a starting and ending date and time during which the deal is valid. You can also specify that the deal is only valid for a specific number of claims, or restrict whether the same Facebook user can claim the deal more than once.
Make sure you are prepared to deliver on the deal as well. If you are offering a discount on a specific item, or a gift to reward customers, make sure there are enough on hand to accommodate the deal. It is also important to make employees aware of Facebook Places and Facebook Deals, and make sure they know if a deal is active so they are prepared as well.