Samsung hopes to sell more than one million Galaxy Tab devices worldwide by the end of 2010, according to a report from the Dow Jones Newswire. The announcement comes just days before the device launches in the United States and a few weeks before Samsung's new tablet device goes head-to-head with Apple's iPad during the holiday season.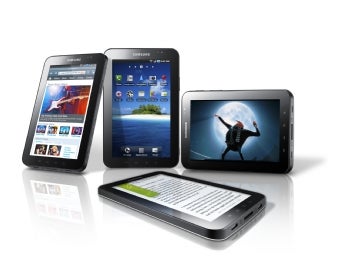 The Galaxy Tab launches in the US next week on T-Mobile (Nov. 10) and Verizon (Nov. 11), followed by Sprint on November 14. That gives Samsung about 50 days (counting forward from November 11) to reach its sales goal of one million devices.
Samsung's launch forecast sounds impressive, because, let's face it, selling over one million units of anything is a worthy achievement. But it's not such a big deal when you consider Apple sold one million iPads in 28 days, two million iPads in less than 60 days, and another million 22 days later. As of September 25, Apple said it had sold more than seven million iPads, and the tablet promises to be a major tech item during the holiday shopping season.
There's no question that Samsung's Tab has some serious challenges to overcome if it wants to compete with the iPad in any significant way.
Galaxy Tab Pricing Handicap
The Samsung Galaxy Tab features 2 GB of onboard memory that is expandable up to 32 GB with an SD Card for a total of 34GB. The Android-based device also features a 7-inch display with 1024-by-600 resolution; 802.11b/g/n Wi-Fi, Bluetooth 2.1 and 3G connectivity; a 1.3 megapixel front-facing camera for video chat; and a 3 megapixel rear-facing camera.
Pricing starts at $400 on Sprint and T-Mobile (with a two-year mobile data) contract, and Verizon is selling the device contract free for $600. The iPad meanwhile ranges in price from $500 to $830 depending on the storage options you choose and whether you want the 3G-enabled version.
That still gives the Tab a $100 advantage until you note that the Tab at $400 requires a data plan that will set you back at least another $25-$30. The $500 iPad, meanwhile, is Wi-Fi only, meaning it has no extra costs beyond the purchase price.
Carrier Freedom
The Tab is also handicapped because you are tied to a carrier if you choose to go with Sprint, T-Mobile or Verizon. Sure, Verizon is selling the device contract free, but your Galaxy Tab will likely still be tied to Verizon. Since the Galaxy Tab on Verizon will presumably be a CDMA device, the tablet won't have an interchangeable SIM card allowing you to switch networks. Even if the Verizon CDMA device is unlocked, convincing another CDMA network (that means Sprint in the US) to allow your device to work on its network could end up being more of hassle than it's worth.
The iPad has its limitation in the US as well. Even though the device is unlocked, it uses a microSIM that is so far only compatible with AT&T. But you can take the iPad abroad and switch out the microSIM in different countries, and you can hack the microSIM to work on T-Mobile's slower Edge network if you were really desperate to get off AT&T.
Model Variation
At its September Galaxy Tab launch event in New York, Samsung said it would be coming out with a Wi-Fi only version of its new tablet device. For the foreseeable future, however, it is only offering a Wi-Fi + 3G version through the four major US carriers. That's a problem compared to the iPad, which offers three Wi-Fi only options and three Wi-Fi + 3G.
This gives Apple a huge advantage, since a Wi-Fi only option at a lower price point is a very attractive device. While those who need 3G service on their iPad can opt for the unlocked, contract-free GSM-based device starting around $630 for a device with 16GB of storage.
Perhaps a $600 Galaxy Tab from Verizon would be more attractive than the 3G iPad since you can expand the Samsung tablet's storage to 34GB with a relatively cheap SD card. But you also get less screen size, and a device loaded with Verizon crapware apps including three VCast apps, Verizon's mobile apps store and a golfing game called "Let's Golf."
Samsung's Galaxy Tab sounds like a great device, and the company may very well reach over one million devices sold by the end of the year. But this holiday season we'll find out whether people are ready to opt for a cheaper, carrier-tied device over Apple's iPad.
Connect with Ian Paul (@ianpaul) on Twitter.