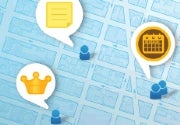 For most American's "checking in" to your local furniture store makes about as much sense as watching paint dry. According to Pew Internet and American Life Project a paltry 4 percent of online adult Americans use location-based services. But here's the game changer: Facebook Deals.
When I talk to my non-techie friends about location-based services like Facebook Places and Foursquare: "What's the point?"
Let's Make a Deal!
Facebook Deals, announced Wednesday as part of the site's new push into mobile, might have the best answer yet. It'll save you money.
The new platform will allow people to find deals nearby when checking into a location on Facebook. So if you're downtown and looking for a restaurant, you can see all the places on the block that are offering discounts. Or, you could find out about deals ahead of time. Checking in gives you a virtual coupon on your phone (only iPhone for now), which you present to the cashier.
Mayor of Nowhere
The news came a day before Pew Internet and American Life Project posted a study conducted in August and September, finding that only 4 percent of online adult Americans use location-based services. The last time Pew conducted the study in May, 5 percent of online adults said they check in. On any given day, a mere 1 percent of the people surveyed said they used service like Foursquare and Gowalla.
For comparison, nearly a quarter of online adults use Twitter or another service to post status updates, and 62 percent of online adults in the United States use a social networking site.
Pew didn't explore why people do or don't check in, but I'm guessing — based on the aforementioned anecdotal evidence — that the usefulness of broadcasting your location isn't readily apparent. Sure, people said the same thing about status updates, but it's harder to deny that people like talking about what they're doing and making idle chatter with friends.
Path to Relevancy
Facebook Deals adds some serious utility to check-ins. In fairness, Foursquare already does this. Businesses can offers deals to "mayors" — people who've checked in the most in the last two months — repeat customers or even the random check-in. But Facebook has the reach and recognition to make check-in deals even bigger. The site has already lined up deals with 21 companies, sports teams and universities.
If Facebook Deals becomes a reliable way to save money, my non-techie friends will probably start asking a different question: "How do I do that?"