The iPhone will be losing some of its popularity among developers, advertisers, and publishers next year as the app makers try to diversify their offerings to other platforms.
In 2011, developers will be concentrating their efforts on making apps for Windows Phone 7, Android and the iPad, according to a report released today by Millenial Media, Digiday, and Stifel Nicolaus.
The analysis–based on interviews with developers, publishers, and advertisers–shows that 29 percent plan to support Android in 2011, 20 percent will focus on the Windows Phone 7 and Apple's iPad, and 12 percent will target RIM's Blackberry platform. By contrast, only 8 percent will be concentrating their next year's efforts on the Apple iPhone. These figures are significantly different from this year, during which 30 percent of the developers were in the iPhone camp.
What will next year have that this year doesn't? Windows Phone 7, of course.
According to the Millennial report, "When asked what platforms advertisers/marketers will add support for in the coming year, Windows Phone 7 appears ready to supplant RIM and iPhone in emphasis, while marketers lend even more intensity to iPad and Android."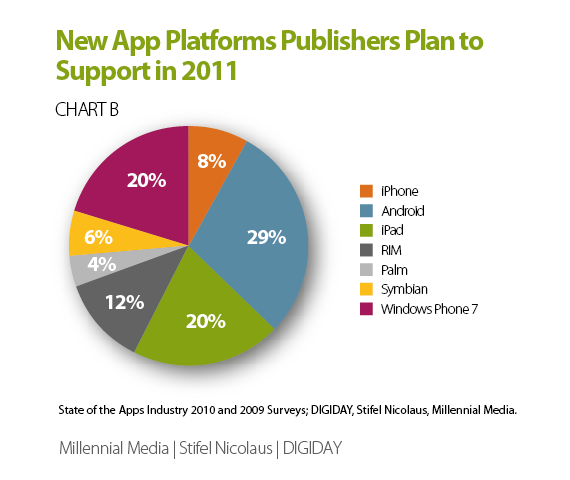 "Windows Phone 7 is tied for second place with iPad as the platform that will be added to most publishers' plates in the coming year," the report adds, "and Android appears in pole position to challenge iPhone for the top spot of platforms for which publishers create applications."
The surveyors also found that developers plan to spend more money on application development next year, as compared to this year. Some 9 percent of the developers participating in the survey say they plan to spend more than $1 million on new apps, including 2 percent who say they're going to spend more than $5 million. Only 5 percent of developers spent more than $1 million on app development in 2010.
Developers also expect their app revenues to increase next year. Thirty-one percent predict revenue increases of 100 percent or more, while 17 percent forecast a jump of more than 50 percent.