At a Glance
Expert's Rating
Pros
Lots of options, including touchscreen display
Good keyboard and touchpad
Cons
Expensive for a netbook
Limited resolution
Our Verdict
The design of the HP Mini 5102 is great for business users, but the high price doesn't buy you extra performance.
A quick glance at the specs of the current crop of netbooks might lead you to believe that they're more alike than different. Nearly all of them are based on the same Intel Atom CPU (the N450), with 1GB or 2GB of RAM, no optical drive, and similar battery-life claims. But look closer, and you can see that various models are designed with different people in mind.
If you're interested in using your netbook for entertainment, such as watching high-def video or playing the occasional game, you'll want a model with a larger screen and a good graphics processor (nVidia's Ion or AMD's low-power platform with ATI graphics). You'll pay more and give up some battery life, though.
If you frequently take long business trips or need to get a little work done on the train or plane, you'll want a netbook that maximizes battery life to obviate the need for an outlet until you get home for the evening. As a business traveler, you may find on-the-go connectivity, rugged design, and a terrific keyboard and touchpad to be more important than raw performance.
Maybe performance and price don't matter to you as much as a netbook that looks good and has first-rate design, even if you have to pay more to get it. Perhaps you find yourself on the other side of that coin, looking for the least expensive netbook that will get the job done, as a companion to your everyday PC.
Whether you're looking for a netbook with lengthy battery life, useful business features, a small price tag, innovative design, or great entertainment capabilities, read on for our top choices in each category.
Do you just want a good all-around workhorse? Our Top 10 Netbooks chart will tell you which netbooks we think are the best overall.
In Video: The Best Netbooks For Business, Entertainment, Battery Life and More
Best Design: Lenovo IdeaPad S10-3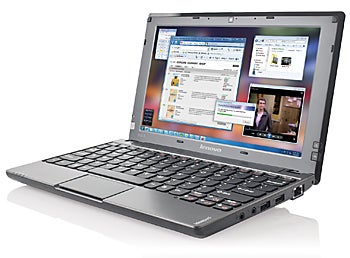 Everything Lenovo sells, including the $369 IdeaPad S10-3 netbook, appears to be intended for the boardroom or meeting room. This 2.6-pound, business-oriented model is a bit pricier for its specs than the competition. Most other 10.1-inch, 1024-by-600-resolution netbooks with the same 1GB Intel N450 CPU and 3150 GPU combination sell for $10 to $50 less; they also have a more-capacious 250GB hard drive (the S10-3's is 160GB). While 160GB is more than enough for most users, you are still getting a little less of the basics and paying a bit extra for the business features and software.
Or is it the ergonomics you're paying for? The innovative multitouch combination of touchpad and rocker button on the S10-3 is a relief for anyone (including this writer) who hates inadvertently tapping while dragging or hunting for buttons. Simply apply a little pressure to the bottom left or right corner of the device, and you have your click.
Another time-honored Lenovo strength is the keyboard, and the S10-3 doesn't disappoint there either. The typing feel is as good as you'll find on a netbook, with no scrunched or misplaced keys. Working with this netbook feels less like using a netbook than doing so with any other 10.1-incher I've ever tried.
Lenovo also bundles some interesting software. Most of it, such as the VeriFace facial recognition security, is aimed squarely at business users. Lock down the system with a password, and VeriFace will log you on by scanning your mug using the Webcam. It works rather well, and is fun. But logging on this way is slow and gets tiring after a while.
Additional apps include DirectShare, which syncs files and folders across your network, and OneKey Recovery, which images your hard drive for disaster recovery (though Windows can do this). Unfortunately, you don't get even Microsoft Works. No doubt Lenovo thought business users would have their own productivity suite, or would activate the Office 2007 trial.
Other specs are standard for netbooks. You get three USB ports: one on the left with the VGA port and SDHC slot, and two on the right with the ethernet and audio in­­put and output. The AC port and a wireless switch are on the left. The hard drive, memory, and free Mini PCI Express slot are easily accessible via a removable panel on the bottom.
The Lenovo IdeaPad S10-3 ran for 8 hours, 27 minutes in our battery tests, but its performance score of 31 on WorldBench 6 is subpar even for a netbook, and the Windows 7 Starter operating system feels sluggish (Lenovo piles on background processes via software that duplicates Windows capabilities). Uninstalling unnecessary apps helps quite a bit.
Regrettably, 720p HD video played smoothly only when transcoded to the very efficient QuickTime MP4 codec. WMV was a complete fail, and other MP4 implementations continually stuttered or stalled. On the other hand, audio through the S10-3's speakers sounded better than on most netbooks.
Though it's pricier, slightly less well-configured, and slower out of the box than much of its competition, Lenovo's IdeaPad S10-3 is a netbook that remains more than the sum of its parts. Give its ergonomics a try.
–Jon L. Jacobi
Best Battery Life: Gateway LT2118u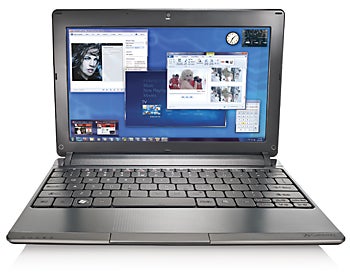 You'll be amazed at the run time of the $350 Gateway LT2118u. With Intel's Atom N450 CPU and 3150 GPU at its heart, as well as 1GB of memory, a 250GB hard drive, and a 10.1-inch, 1024-by-600-resolution display, Gateway's pride and joy carried on for an astounding 11 hours, 17 minutes in the PCWorld Labs' battery tests.
But how can a netbook that supposedly differs from its LT2120u sibling only in color run more than an hour and a half longer? As it turns out, the LT2118u uses a UMO9H36, 5600-milliamp-hour/63-watt-hour battery–while the LT2120u uses a UMO9H56, 5800-milliamp-hour/63-watt-hour model.
From those specs, you would expect the UMO9H56 to run longer, but we found no other difference in the BIOS or components, so apparently the UMO9H36 is the better option. The LT2118u's upper cover is a rich red with the rest of the unit in dark grays–a surprisingly classy look. The ports are standard for a netbook: two USB ones on the left, along with the AC jack and a VGA port, plus one USB port on the right with the audio in/out and a 10/100 ethernet port. A Kensington lock port is also on the right edge, as is an SD Card slot.
At 2.7 pounds, this netbook has about average heft for a 10.1-inch system with a six-cell battery. The hard drive and memory module are both accessible via screw-secured access panels on the bottom. A vacant Mini PCI Express slot is underneath the hard-drive panel for a possible broadband or other upgrade. Overall, the unit is a hardware tweaker's delight.
The LT2118u played high-def 720p WMV, QuickTime, and MP4 videos smoothly, though online Flash video and Flash-based gaming were noticeably jerky–extremely so with content at higher resolutions. Audio was fine through headphones, and decent enough through the speakers. The 640-by-480 Webcam's images and recording were exceptionally smooth, and a pop-up Webcam utility appears when you roll over it with the mouse at the top of the screen.
The LT2118u, though it handled video a bit better than the average N450/3150-based netbook, scored the same 33 points on WorldBench 6 that most netbooks do–including its aforementioned sibling, the LT2120u. Overall, this gives the unit the same less-than-snappy but workable feel we've become used to with Windows 7 Starter netbooks.
Most people should adapt to the LT2118u's keyboard just fine, as the majority of the keys are where you'd expect them; the feel, while a tad light, lends itself to touch-typing. One caveat: A large gap between the keys leaves a ton of space for dust and particles to collect. Vacuum this puppy regularly.
The touchpad is stylish, and has raised bumps that make it easy to find by feel while remaining unobtrusive. You'll want to spend a few minutes ditching the preloaded software flotsam–with innumerable icons blanketing the desktop–but dig around a bit, and you'll also find a copy of the ever-useful Microsoft Works.
The LT2118u is all about style and endurance. It's a cut above the average netbook in looks and is easy to upgrade–and if you tend to have pretty long workdays, you'll love the machine's 11-plus hours of run time.
–Jon L. Jacobi
Best on a Budget: Asus Eee PC 1001P-MU17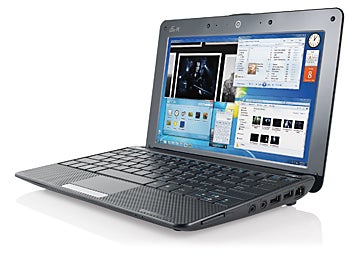 In a sea of nearly interchangeable 10.1-inch netbooks, the modestly priced ($299) Asus Eee PC 1001P-MU17 stands out for one thing: Express Gate, a nearly instant-on auxiliary operating system that allows quick access to the Web, online gaming, Skype, IM, and your photos. To boot to Express Gate, you start the 1001P-MU17 using a secondary power button (which has no light) on the upper left of the keyboard deck. You boot to the regular Windows 7 Starter OS via the normal lighted power button on the upper-right side.
Beyond Express Gate, the 1001P-MU17 leans mostly toward the mundane. You get the current popular netbook components: an Intel Atom N450 processor with an integrated 3150 GPU, 1GB of DDR2 memory, and a 160GB hard drive. The ports are also typical for a 10.1-inch unit: three USB, one VGA, one AC, one 10/100 ethernet jack, a single SDHC slot, plus audio in/out and a Kensington lock port.
The Eee PC 1001P-MU17 is styled in an all-black color scheme broken up only by a silver rocker button for the touchpad and a checkerboard pattern on the upper shell and lower deck. It looks as if it would be more at home in a boardroom than in a coffee shop. That's not a complaint, just a caution to anyone who might want to wow style-conscious friends.
The netbook weighs 2.8 pounds, about average for this category of netbook with a six-cell battery. If weight is more of a concern than run time, you can drop that to 2.24 pounds with a three-cell battery. However, if you plan to up­­grade your machine's performance with an SSD, you might want to skip the 1001P-MU17: Unlike most netbooks, it has no access panel for the hard drive. But it does have an access panel to the memory if you want to upgrade that module.
Overall, the 1001P-MU17 felt as snappy as an N450-based netbook can when running Windows 7–you can live with it, but that's all. The WorldBench 6 score of 34, while a point higher than most, bears that out. Video performance was a touch worse than average. The Webcam's image was decently smooth, and the unit had no problem playing QuickTime or Flash HD video locally. But MP4 and WMV were a stuttering mess, as was online Flash video. Online Flash gaming was jerky to the point of distraction. Battery life was a solid 6 hours, 50 minutes–not the best we've seen, but more than enough to get you from coast to coast.
The keyboard has a crisp feel, and for some users the oversize left/right cursor keys might eliminate some hunting. The touchpad was also exceptionally well adjusted for tapping.
The model comes with Microsoft Works, which should cover most users' needs adequately (a 60-day trial version of Office 2007 is also included), and Skype is installed, as well. And thankfully, Asus has refrained from placing useless software on the desktop.
The Asus Eee PC 1001P-MU17 is a solid effort from the company that started the whole netbook craze, offering a very nice keyboard, a particularly well-adjusted touchpad, and a sedately handsome look. If you regularly need quick access to the Web, the Express Gate OS can be handy indeed. Plus, you can get the unit for just under $300.
–Jon L. Jacobi
Best for Business: HP Mini 5102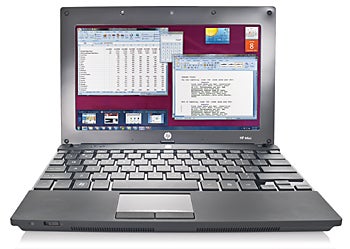 The Mini 5102 is HP's latest business-optimized netbook, with a ruggedized metal chassis and design elements tailored for the business traveler. Though packed with features that business users want, it's expensive: The configuration we reviewed, with a touchscreen, 2GB of RAM, an Atom N450 CPU, and a six-cell battery, costs about $729–easily as much as a larger, more full-featured laptop.
The lid's brushed-metal finish is handsome and doesn't attract fingerprints or smudges. The keyboard is quite easy to type on, with extra-wide <Shift>, <Backspace>, and <Enter> keys. It has a good, clicky feel with plenty of travel, but no backlight or keyboard light for working in the dark. The touchpad looks a little small (common on netbooks), but in practice it isn't much of a problem. It tracks well, and the buttons are separate, distinct, and easy to use accurately without looking at them.
The machine's display quality is slightly better than average, with decent contrast and viewing angles, but the 10.1-inch screen has a resolution of 1024 by 600, which isn't a lot of desktop real estate–it results in frequent scrolling. You can pay a bit extra for a higher-resolution, 1366-by-768 display, and it's probably worth it; that option isn't available, however, if you go for a multitouch screen.
Two USB ports are on the front left edge; on the back left edge is a VGA port. An ethernet port and a third USB port are on the back of the right edge, with headphone and microphone jacks in the middle, and a card reader up front. The front edge has only a Wi-Fi switch. Above the keyboard, you'll find a power button and two quick-launch buttons. Both 802.11n wireless networking and Bluetooth are standard. Mobile broadband with GPS by Gobi is a $125 op­­tion, but it can't be combined with some other op­­tions.
You can choose from several operating systems: SUSE Linux, Windows XP, Windows 7 Starter, and even Windows 7 Professional. Hard-drive options range from the 160GB drive of our test unit up to 320GB, or an 80GB or 120GB solid-state drive. If you deck out the system with all of the most expensive options you can combine, you'd push the price over $1100. The base model with 1GB of RAM and a four-cell battery costs $415.
With a WorldBench 6 score of 34, the performance of the Mini 5102 is similar to other netbooks using the Atom N450 processor, though the 2GB of RAM makes things a little snappier when multiple apps run. Our test unit's extended six-cell battery improves battery life: It ran for 9 hours, 41 minutes in our tests. As on other Atom-based netbooks, the graphics and video decoding is quite poor.
Though its design and feature set are good, especially for business users, all but the barest configurations of the HP Mini 5102 cost as much as many full-size laptops that perform much better. The Mini 5102 is a great netbook for simple note-taking and document editing on the go, as well as for long business flights, but if you just want an inexpensive companion PC, you'll be better off considering less-pricey models.
–Jason Cross
Best for Entertainment: Asus Eee PC 1201N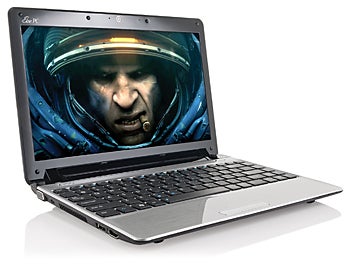 Would you spend almost $500 for a netbook-even a top-of-the-line one, like the Asus Eee PC 1201N? At first blush, the 1201N physically resembles more-conventional thin-and-light laptops based on low-voltage (CULV) mainstream CPUs. It's certainly priced in that ballpark, at $480 to $499; it has both a crisp, 12.1-inch, 1366-by-768-resolution display and one of the better keyboards that I've seen on a netbook, too. It also has a 1.6GHz Intel Atom N330 processor–one, however, that is hosted by the capable nVidia Ion chipset.
The Ion's video capability, Asus hopes, is what will bring buyers to the table. In our tests, its video performance and image quality were definitely a cut above those of Atom CPUs using the stock Intel chipset. The Ion chipset delivers robust video quality, giving smooth performance and downscaling with 1080p WMV files. The Ion's 3D gaming performance was also better, but this is not a gaming system.
The bigger display means slightly larger dimensions than many netbooks have, giving the keyboard a more usable layout than those of many netbooks with a 10-inch screen. And the larger display with its higher pixel count makes for a more productive working environment–you spend less time scrolling and more time reading Web pages and documents.
The ports are typical for a netbook, consisting of three USB ports, an HDMI digital video port, and a VGA analog graphics connector, plus, on the right side, an ethernet jack, audio in/out, and a multiformat flash memory reader.
This Eee PC ships with SRS audio and the full Realtek HD audio suite, allowing you to set specific equalization settings and to spread out the sound field a bit. I found that enabling these features muddied the sound quality, however, so I usually left the settings on standard stereo. The system's built-in speakers won't make you cringe, but you'll enjoy better sound by using headphones.
The LCD screen offers better-than-adequate image quality, but it's also very sensitive to viewing angles. That can make casual video viewing on your couch a little frustrating, as you must either stay in the same position or constantly adjust the display to the appropriate angle every time you shift your body.
Asus ships the machine with Windows 7 Home Premium instead of the more typical Windows 7 Starter Edition or Windows XP. Home Premium offers more customization choices-something welcome in a product that positions itself at the high end of its category.
Microsoft Works and Microsoft Office trialware come bundled. Also included is Asus Webstorage, an online file backup and sync service that provides 1GB of free storage. The 1201N's performance earned it a WorldBench 6 score of 33. Battery life, at 4 hours, 17 minutes in our testing, seemed a tad short for current-generation netbooks.
The real problem with the 1201N is its cost. At nearly $500, the price tag encroaches on the cost of laptops with CULV (ultra­low voltage) mainstream processors, such as Lenovo's ThinkPad Edge and Dell's Vostro V13. Though this Eee PC gives you a bigger display and a more usable keyboard, CULV notebooks are likely to outperform it.
Some people will find the Asus Eee PC 1201N's video performance and 12-inch display to be compelling. But I'd still like to see the netbook's price drop by about $100.
–Loyd Case
Check These Out, Too
Here are alternative netbook models–one in each of our five categories–that are also worth your consideration.
Design: Samsung N210
Sold only at Best Buy, this all-white, $379 model is one of the better-looking netbooks we've seen, and it has a comfortable keyboard and a quick-start feature.
Battery Life: Gateway LT2120u
This $350, Windows 7 Starter netbook lasted an impressive 9 hours, 40 minutes in our battery tests; it's also relatively good at handling video.
Budget: Toshiba Mini NB305-N310
Priced at just $349, this model offers good battery life, a keyboard with large keys, a touchpad that supports multitouch gestures, and a nice software bundle.
Business: Lenovo ThinkPad X100e
With faster performance, a bigger hard drive, and a larger, higher-resolution screen than most netbooks, this model costs more, as well (prices start at $499).
Entertainment: MSI Wind12 U230
This $430 model with Windows 7 Home Premium has the performance of an ultraportable in the chassis of a netbook–but its battery life is short.