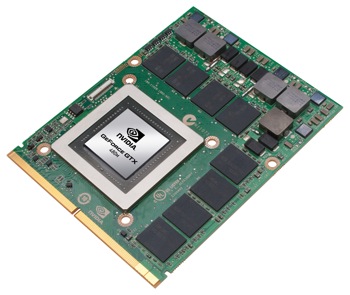 If you're in the market for the fastest notebook graphics card ever, today may be your lucky day: Nvidia just announced its GeForce GTX 480M, which it claims is the speediest notebook GPU in the world. Designed from the ground up to support DirectX 11, the GTX 480M is a true tessellation "monster" with up to 5x more performance than any other GPU out there, according to Nvidia.
The GeForce GTX 480M features the new Fermi architecture, making it the first GPU from Nvidia to bring this technology to notebooks. The GeForce GTX 480M also rocks 352 CUDA cores, Nvidia 3D Vision and PhysX technology, as well as NVIDIA Verde Notebook Drivers for the most up-to-date performance from your notebook.
It looks like Nvidia has solved some of the heat problems suspected in the GeForce GTX 480, the desktop version of the card. While Nvidia's mum on the release date of this card, they've apparently partnered with Clevo to build the first notebook systems featuring the GeForce GTX 480M.
We'll see for sure whether Nvidia's "world's fastest" claims hold up when we get the chance to test actual products with the GTX 480M inside. Stay tuned for more news about notebooks that use this new chip!
[via Nvidia]
Like this? You may also enjoy…