Rumor has it that the unreleased Motorola Droid Shadow–the supposed successor to the Motorola Droid–was found in a corporate Verizon gym in Washington.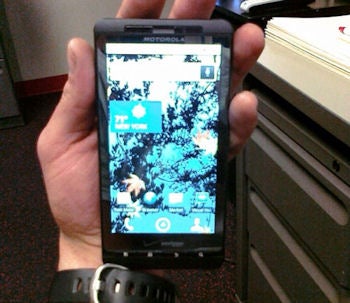 I know what you're thinking–that's crazy talk! Mobile phone company employees who are entrusted with secret unreleased prototypes don't just lose them in public places, such as gyms and bars!
Er…yeah.
Gizmodo (Gizmodo is involved? I am shocked. Shocked!) reports that the phone was discovered by a gym employee. The finder reportedly unlocked the phone (presumably to figure out whose it was), and discovered a text message that said it was "unreleased."
I'm not sure what the text message said, but I assume it was something like, "Hey dude, I totally have this new UNRELEASED Motorola Shadow (aka second generation Droid)–hope I don't lose it like that guy who lost the iPhone, haha."
The finder then snapped a photo of the phone, sent it off to Gizmodo, and then called the presumed owner. The phone was then picked up by an unnamed employee. The finder reportedly managed to confirm, with the employee who picked up the phone, that the phone has 16GB of internal storage, runs a Snapdragon processor, has an HDMI port, and features an 8MP camera (capable of 720p video capture) and a 4.3-inch screen.
This is not the first glimpse we've had of the Motorola Droid Shadow, though–just a couple of days ago HowardForums user "wnrussel" uploaded a picture of the "Getting Started" manual for what looks like the phone in the picture. Other rumors hinted at a Droid phone that would feature 720p or 1080p video capture, as well as 802.11b/g/n Wi-Fi and a slider QWERTY keyboard.
The phone is rumored to be released as early as June or July 2010, and will reportedly run Android 2.2 (Froyo). The photo of the "Getting Started" manual has Verizon branding, so it looks like Verizon users have something to look forward to.
As for the "accidental" leak aspect of this story, I must know: is it really so hard for people to ask themselves, before they leave any public venues, "Do I have my top-secret unreleased prototype with me?"