Dictionary .Net (free) promises to be a general purpose translation and lookup utility which leverages the power of Google's various language and search APIs to provide you with quick results without needing to fire up your browser and do it yourself. Unfortunately, I found it to be frustrating and inconsistent, with poor documentation. A hint to the folks at fish, makers of Dictionary .Net: A screenshot of a feature does not count as documentation of that feature.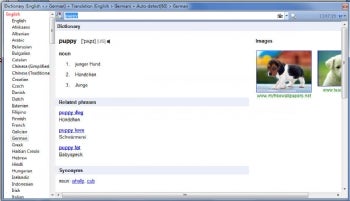 Basically a shell program, Dictionary .Net leaves the real work to Google. You type in a word, and Dictionary .Net fetches the definition from Google. You want the word translated from English to Hindi, and Dictionary .Net invokes the necessary Google APIs and displays the results. This is not a criticism; having a front end which ties together disparate functions you'd otherwise need to visit several Web pages to get to is a good thing.
However, many of the promised features either don't work, or work so randomly, that the utility of Dictionary .Net is severely undermined. For example, after struggling quite a bit with the "documentation," which consists of a FAQ whose "answers" are just screenshots of the program–often confusing and overly complex screenshots at that–I figured out you are supposed to be able to highlight text in Word, press a hotkey combo, and have the selected text translated in Dictionary .Net. I experimented with several hotkey combos; either they were already used by Word, or they did nothing. I tested this on both 64-bit Windows 7 and 32-bit Windows Vista, using Word 2007. A screenshot promises "one click translation without highlighting," provided you use Internet Explorer; After contacting the developer, I learned this feature was activated by the "Mouse Activation" hotkey specified on the Options tab. It worked most of the time, but sometimes, it translated whatever was on my clipboard, and once, it simply crashed,
What you get when you translate a word with Dictionary .Net is also very variable. For example, translate "Cat" into German, and you get four possible translations, a picture of a cat, related phrases in English and German, and quotes from Barack Obama talking about bankers ("Wall Street fat cats", plucked from Google's often idiosyncratic context matching algorithms). Translate the word "cat" from English to Albanian, and you just get four matching words. Since the ancillary material in the first translation was related to the English definition and usage of the word, and not the translated term, it's hard for me to understand why it isn't repeated with the second translation.
There are some good points to Dictionary .Net. The language list is very long, and for doing simple word or phrase translations, it is convenient. You can open some documents, such as text files, and have them be fully translated, which is very nice. The price–free–is certainly right. Overall, though, I found the frustration of using it to be greater than the inconvenience of just making a trip to Google.