One Laptop Per Child (OLPC) project founder Nicholas Negroponte said that the organization is accelerating its development of the XO-3 tablet computer and will have a working prototype by December 2010, two years ahead of projections. Negroponte said the final product would cost US$75.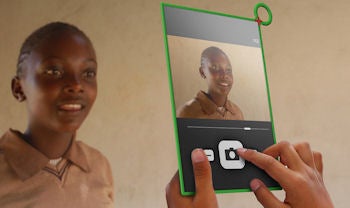 "At CES [2011] we will show a tablet that can be and will be used for children probably in the developed world," Negroponte said Tuesday during an interview at the MIT Media Lab, the lab he founded. "It will allow us to start testing many of the things that combine a laptop, an iPad and a Kindle."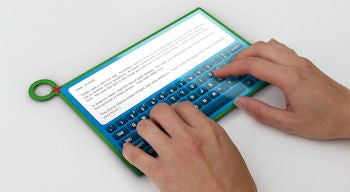 "You'll see from us, God willing, an Arm tablet," he said while crossing his fingers. "The screen area will probably be a 9-inch diagonal, maybe more."
Negroponte said that the device might also include haptic feedback and "more important than anything else, a dual-mode display." He explained that the device will be able to be used both indoors and in direct sunlight. Presumably that would mean that in one mode the device uses a backlight and displays information like any traditional laptop, but then in another mode it switches to a display similar to a Kindle e-reader.
"That's one of the biggest features we need for our kids," Negroponte said. "Our kids are outdoors a lot and just having it backlit just doesn't work for outdoors and just having it reflective doesn't work for nighttime."
E-ink displays, like those in the Amazon Kindle, Sony Reader and others, have typically been regarded as less stressful on the eyes than backlit displays. The absence of a backlight, though, makes viewing a page in a dark room near impossible without an additional light source.
He said that the prototype will have a screen made of glass, but that an entirely plastic unit is the goal.
"We really want this to be 100 percent plastic, unbreakable and almost extruded out of a machine," he said. A plastic tablet would "probably" be shown at the 2012 Consumer Electronics Show in Las Vegas, he said.
Negroponte agreed that Apple's iPad helped tablet PCs gain consumer acceptance, but criticized the company's creation as not being open. He said that the XO-3 tablet is "ultimately an open-source Linux laptop," but that the first ones might run Google's Android operating system. He also said the XO-3 would have standard ports.
In the past OLPC has had trouble hitting its promised price points, but Negroponte said selling the tablet for $75 wouldn't be a problem. Some naysayers might call his goal unrealistic, but he welcomes the criticism, saying, "When someone looks at me and tells me I'm realistic, I'll realize that I've kind of lost it."
Nick Barber is a Boston-based multimedia correspondent who also hosts World Tech Update. E-mail him at nick_barber@idg.com and follow him on Twitter at www.twitter.com/nickjb.