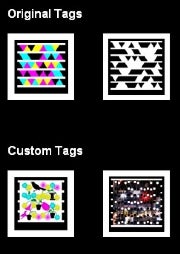 (Editor's Note: This article originally stated that Microsoft Tag uses QR code. It actually uses a next-generation form of barcode called High Capacity Color Barcode, or HCCB. The article has been corrected.)
The minds at Microsoft threw the beta off Tag, an innovative mobile phone barcode-scanning service that holds nearly limitless possibilities when it comes to . . . just about anything.
Imagine touring a museum and scanning a symbol next to a painting to launch a related video. Or zapping a code at a bus stop and seeing when the next bus is coming. Picture the various creative implementations of this technology — it may all be feasible.
Microsoft Tag uses High Capacity Color Barcodes, which are two-dimensional barcodes that can be quickly read on a mobile phone. Since the launch of Tag 18 months ago, "more than 1 billion Tags have been printed by people and businesses all over the world. In the month of April alone, more than 20 million magazines with Tags were in the hands of U.S. consumers," Aaron Getz wrote on Microsoft's blog.
"Today we can imagine a world where any physical object can become a gateway to a world of digital content and engagement: Scan a product in a newspaper, get a personalized offer, buy it on the spot, or get directions to the store to buy it later. Or, scan a poster for a play, see a preview of the performance, invite friends, and buy tickets. This is what Tag can do for you, for your users, for your marketing campaign, and for your business. All you have to do is simply click on things in your physical world to make your world interactive on the spot," Getz wrote.
Besides Microsoft's OS, the free Tag client is available for Android, BlackBerry, the iPhone, Symbian and PalmOS. A Java-based version, which would open the door for running the application on cheaper phones, is under development as well. You can download your tag reader here.
All of this sounds so very Philip K. Dick. I can't stop picturing a Tag tattoo; uploading whatever data I want — a video of my band or a mobile resume — into the cloud and keeping my personal media fresh. Tag technology stands to change advertising and marketing as we know it — and get us even more glued to our smartphones than ever before.
Microsoft isn't the only company playing with barcode tech. Google and Facebook have both implemented their own iterations. At the moment, Google is using more-conventional Quick Response (QR) codes for advertisers and Facebook for user profiles, though we should expect evolution soon.
QR codes aren't anything new. Launched in the late 90s, QR readers such as the laughable DigitalConvergence CueCat failed miserably and barcodes didn't lift off the ground.
But since smartphones are so popular and widespread, both the new HCCB and QR barcodes stand to become far more accessible to the masses. They even made an appearance at the recent SXSW conference.