In photo imaging, one program reigns supreme for turning photographs into fine art resembling natural-media-like paintings and illustrations, and that program is Corel Painter. Painter gives the artist a remarkable range of brushes and textures for one of the most–if not the most–creative platforms on any computer. But Painter is also a professional's tool, which requires a high degree of skill and talent to use effectively. One step down, in both difficulty and versatility, is Corel Painter Essentials, though it also requires a certain level of skill to master. And then there's Corel's new, almost foolproof painting program, Paint It ($40, 15-day free trial).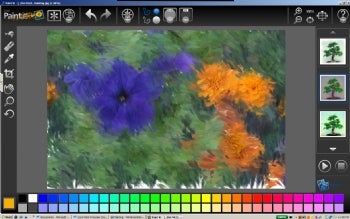 Paint It is based on Painter's natural media engine. It has a selection of brushes, such as an airbrush or smudge to help you turn your photos into what may look like a painting, charcoal sketch or pencil drawing. However, to keep it simple and easy to learn, the tools and interface are very limited.
At the heart of Paint It is the automated art creator. Choose from among the 11 styles, such as Oil Painting, Impressionist Painting, Detailed Watercolor or Pen & Ink Drawing. Click the Start button, and watch the program create a work of "art" in the selected style, based on the colors and composition of your photograph. It will keep painting the picture until you hit the Stop button. We found the pictures generated by the automated styles generally pleasant, but too uniform and often quite coarse. Editing the picture by selectively painting with the Revert brush (at various levels of opacity) can produce some nice effects.
You can use any of Paint It's 24 brushes, with adjustable control over color, size and opacity on your converted picture or on your original photo. Of those 24 brushes, a few–such as Fairy Dust, Leaf, and Pattern–provide limited or no control over color. And the pattern brush paints only one pattern, with options only for size, opacity and where you will place it on your picture. Two icons give you a choice between a hard-edge or a single-level soft-edge brush. In addition, you can set brushes to follow a straight line or to allow you to draw freehand.
The palette on the bottom of Paint It's screen offers 64 colors. In addition, you can use an eyedropper to pick up a color from your picture, or choose any color in the spectrum from a more advanced color picker. However, the displayed palette never changes. So, it isn't relevant to the colors you use in your picture. Whenever you want to use a certain color again that isn't among the displayed 64, you have to select it again, using the picker or the eyedropper.
Paint It's print options are limited to the basic Windows (or Mac) print dialog. Nor does it have any sharing tools, which are increasingly common in consumer photo applications.
Corel Paint It is a fun, easy-to-use program, suitable for novices who enjoy playing with their pictures and want simple way to convert a photo into a basic painting or drawing. One step up in flexibility and control, in an interface that is also suitable for novices, is Snap Art 2, which has less of an automated push-button feel about it. For anyone who wants to use a painting program to make really effective art, consider downloading Corel Painter Essentials or Corel Painter.