If you want an all-in-one tool for managing, viewing, and doing basic editing you'll find ACDSee Photo Manager 12 ($70, seven-day free trial) well worth the try. It's got every photo tool you want, organized in an easy-to-use manner.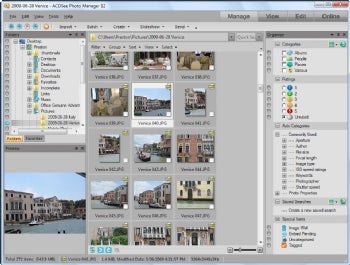 Basic viewing capability is lightning fast; it finds and display all photos in a folder nearly instantly. You can view your photos in an Explorer style view, while seeing a more detailed view of a highlighted thumbnail, and being given an extraordinary amount of information about each photo, including aperture data, focal length, file size, image type, shutter speed, and much more. You can also sort, group, and filter your photos in just about any way you want as well.
That's just the start of what you can do with ACDSee Photo Manager 12. You can also add keywords to photos, import photos from your camera, and create your own categories. You can also search by keyword and other criteria to find photos fast.
The included editing tools are designed for simplicity rather than power, so if you're looking for a photo editor, you'd do well to look elsewhere. But for basic tasks such as red eye removal, changing exposure, sharpening, cropping, and blurring, ACDSee Photo Manager does a very good job.
At $70, ACDSee Photo Manager 12 isn't cheap. But if you're willing to spend the money, you'll find it a winner.
Note: In order to run the program, you will have to send your e-mail address to ACDsee in order to receive an unlock code that will lengthen your trial period from seven to 30 days.