After intense scrutiny to ensure the acquisition won't make Google a de facto monopoly in mobile advertising, Google's purchase of AdMob got the regulatory green light and was finalized this past week. The upcoming launch of Apple iAds played a fundamental role in helping Google clear the antitrust hurdle, and now the two platforms will go head to head for the nascent mobile ad market.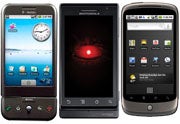 The Google empire contains a diverse array of online services and moving parts. Despite the outward appearance that Google is primarily an online search engine, the fuel that drives the search engine and funds the Google empire is advertising. That explains why Google was so aggressive in outbidding Apple to acquire AdMob for $750 million.
Had Apple sat idly by, there is a very good chance that the AdMob deal would have been blocked by the FTC out of fear that it gives Google too much of an advantage in the mobile advertising market. Instead, Apple acquired Quattro for $275 million–less than half of what it had bid for AdMob. That purchase led to the iAd mobile advertising platform, announced in April at Apple's iPhone OS 4.0 launch event.
In its statement announcing approval of the AdMob purchase, the FTC explains "The Commission has reason to believe that Apple quickly will become a strong mobile advertising network competitor. Apple not only has extensive relationships with application developers and users, but also is able to offer targeted ads (heretofore a strength of AdMob) by leveraging proprietary user data gleaned from users of Apple mobile devices."
The FTC statement goes on to add "As a result of Apple's entry, AdMob's success to date on the iPhone platform is unlikely to be an accurate predictor of AdMob's competitive significance going forward, whether AdMob is owned by Google or not. This is particularly important given that AdMob's revenue and market share are derived largely from the iPhone platform."
Now, the race begins in yet another facet of the increasingly heated rivalry between Google and Apple–formerly strong allies united against Microsoft. Apple's iPhone OS and Google's Android OS are battling each other in the smartphone arena, and now Apple and Google will also be fight for the ad revenue generated on those mobile platforms.
Susan Wojcicki, Vice President of Product Management for Google, declared in a blog post "It's clear that mobile advertising is growing incredibly fast with lots of businesses innovating at great speed. Every day, more marketers are looking to take advantage of the mobile-specific capabilities, extended reach, great returns and value that mobile advertising provides. Advertisers are now starting to see mobile as an essential part of their overall campaigns, not just a silo-ed experiment on the side."
Google will include click-to-call functionality with its mobile ads. This feature enables advertisers to include a phone number directly in the ad text that users can simply click to contact the business directly via phone. The convenience and efficiency of not having to remember the number and switch modes from Web surfing to phone function in order to dial it will be appreciated by users and lead to more customer engagement for advertisers.
For Apple's part, it hopes to help developers monetize apps without the user having to leave the app to see the ad. "iAd, Apple's new mobile advertising platform, combines the emotion of TV ads with the interactivity of web ads. Today, when users click on mobile ads they are almost always taken out of their app to a web browser, which loads the advertiser's webpage. Users must then navigate back to their app, and it is often difficult or impossible to return to exactly where they left."
Each mobile advertising platform will offer unique features and strategic advantages, but the real competition may simply come down to money. Apple is structuring iAd with a revenue sharing model that pays 60 percent of ad revenue to the developer. Google recently unveiled that it shares as much as 68 percent of ad revenue with the Web sites it places ads on.
The battle between Google and Apple, between the Android and iPhone smartphone platforms, and between Google's mobile advertising with AdMob and Apple iAd, could be a huge benefit to advertisers. There will be more choices and the two will have to compete on both price and innovation.
You can follow Tony on his Facebook page , or contact him by email at tony_bradley@pcworld.com . He also tweets as @Tony_BradleyPCW .