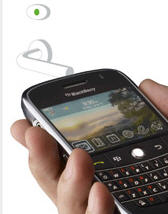 Are you sick of always digging in your pocket for that darned hotel room key? And God forbid you lost the thing and have to convince the desk clerk you're you and deserve a replacement, maybe even for a fee! Thanks to a new application that works on nearly every smartphone on the market, you can open your hotel door with your phone and avoid pesky keys or wasteful plastic access cards.
The new app developed by OpenWays works with more than 4 billion phones worldwide and can be integrated with many lock technologies, including Mag-Stripe and Smart Card. The new app is being developed mainly for hotel doors; InterContinental Hotels Group said earlier this month that it will try out the OpenWays technology at two locations, the Holiday Inn Chicago O'Hare Rosemont and the Holiday Inn Express Houston Downtown Convention Center.
Because the OpenWays technology can be equipped for use with nearly any major lock technology it, in theory, could be used for other applications or locations from vault doors to building entrances.
But how does it work? According to OpenWays, the app uses the speakers in your phone to emit a distinct sound (specific to your door) which is then picked up by the OpenWays technology in the lock. Because a sound can easily be recorded, the sound becomes obsolete the instant it is used. If recorded, and someone tries to use the recorded sound, the lock will reject the entry attempt. This is due to the latest in research in cryptography, where keycard data is wrapped in an "encrypted acoustic envelope," thus never compromising your safety. According to OpenWays, the sound is no louder than what you would normally hear over your phone, and the speaker is not necessary. And here's one added benefit: it doesn't waste any plastic on those pesky access cards, making this a greener technology.
Future capabilities of the app (possibly integrated with a hotel app) may include extending your nights at the hotel, ordering room service, and paying for it, too! As if we did already have enough ways to spend our money.
[Via engadget]