Asustek Computer on Monday unveiled two Eee Pad tablets running Windows software and an e-reader, the Eee Tablet, with a note-taking function.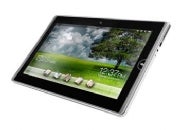 The Eee Pad EP121 sports a 12-inch touchscreen and has Microsoft's Windows 7 Home Premium operating system and an Intel Core 2 Duo processor inside. The device is meant for Internet access, watching videos and other multimedia uses, computing and as an e-reader, the company said in a news release.
People can input data on the device using the on-screen keyboard or by typing on a keyboard that the Eee Pad docks onto. Asustek says the device can run for 10-hours before needing a recharge.
The Eee Pad EP121 actually has two docking stations. One is a keyboard meant to give users the feeling of typing on a desktop, and the other is a docking station that essentially turns the device into a laptop. The tablet docks on to the keyboard section, then can be folded up.
Asustek will offer the docking stations separately. It has not set a price for the big Eee Pad.
Asustek also plans to build a similar combination of tablet and laptop docking station with a smaller screen and lower-power processor, like those used in today's netbooks, a company representative said.
The other iPad-style device Asustek showed, the Eee Pad EP101TC, has a 10-inch touchscreen and uses Microsoft's Windows Embedded Compact 7 software. The device is 12.2 millimeters thick, weighs 675 grams, and has Nvidia Tegra chips inside, the Asustek representative said.
It will cost between US$399 and US$499 when it debuts on world markets in the first quarter of next year.
The company's e-reader, named the Eee Tablet, is designed for digital note-taking in addition to reading e-books.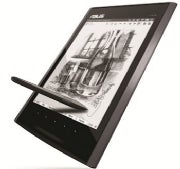 Asustek has sought to make the device a more educational tool by putting a 2-megapixel camera on board so students can take pictures of lecture slides as well, and sync the device to a laptop or desktop via a USB port or by using Micro SD cards.
Students can use the stylus for digital note-taking on the device's touchscreen. Asustek says the screen was designed so a user feels like they're writing on paper.
The e-reader will debut in September for $199 to $299.
Asustek also unveiled a plan to join the app store business with the Asus App Store, in partnership with the Intel AppUp Center. Asustek will feature apps for the Linux-based MeeGo operating system on its app store. Intel and Nokia combined their own Linux OS projects into MeeGo, an OS aimed at netbooks and other smaller devices.
Asustek plans to release a netbook running MeeGo early next year, the company representative said.