One day I was using my cell phone's GPS service to find the nearest Target. I was driving down the road when suddenly my cell phone piped up, "Turn right here." I looked to the right. There was no road, just a tree and some grass. I chalked it up to a GPS glitch and turned right at the next corner.
If I had been Lauren Rosenberg, however, I would have turned right at that very moment, hit the tree, suffered some cuts and minor brain damage, and then turned around and sued Verizon for the glitch in its GPS service.
Seriously.
Search Engine Land reports that Rosenberg, a Los Angeles California native, is suing Google because Google Maps issued directions that told her to walk down a rural highway. She started walking down the highway–which had no sidewalk or pedestrian paths–and was struck by a car. She is suing Google for her medical expenses ($100,000), as well as punitive damages. She is also suing the driver who struck her, Patrick Harwood of Park City, Utah.
On January 19, 2010, Rosenberg was apparently trying to get from 96 Daly Street, Park City, Utah, to 1710 Prospector Avenue, Park City, Utah. She looked up the walking directions using Google Maps on her Blackberry. Google Maps suggested a route that included a half-mile walk down "Deer Valley Drive," which is also known as "Utah State Route 224."
There's not much more to say–she started walking down the middle of a highway, and a car hit her. Who wouldn't have seen that one coming?
According to Rosenberg's complaint filing:
"As a direct and proximate cause of Defendant Google's careless, reckless and negligent providing of unsafe directions, Plaintiff Lauren Rosenberg was led onto a dangerous highway, and was thereby stricken by a motor vehicle, causing her to suffer sever permanent physical, emotional, and mental injuries, including pain and suffering."
Google actually does offer up a warning about its walking directions–if you view Google Maps on a computer, it gives you the following message: "Walking directions are in beta. Use caution–This route may be missing sidewalks or pedestrian paths."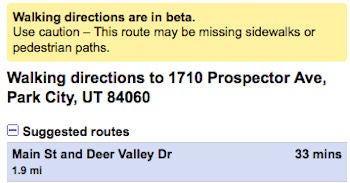 This warning does not show up in PDA's and cell phones, however. I suppose Google figured that people who are smart enough to use Blackberries are probably also smart enough to not walk directly into the middle of traffic.
For the record, when I look up driving directions from my current city (San Francisco, California) to the city I grew up in (Tokyo, Japan), Google Maps suggests I kayak across the Pacific Ocean (with a rest stop in Hawaii, of course).
I can't wait until Ms. Rosenberg tries to travel overseas ("The plaintiff was unaware that attempting to kayak 5,100 miles is an unreasonable endeavor").