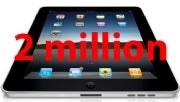 Apple announced that it has sold over two million iPads, in less than 60 days since the tablet became available in early April. The news comes less than one week after Apple unleashed the iPad to nine international markets last Friday, in Europe, Canada, Japan and Australia.
The iPad first became available on April 3, and reportedly one million devices sold in 28 days, on May 3. Another 28 days later, the company reported two million iPads sold.
All the iPad models, WiFi-only and WiFi+3G are now available not only in the U.S., but also in Australia, Canada, France, Germany, Italy, Japan, Spain, Switzerland and the U.K.
In Apple's announcement, the company's CEO Steve Jobs said: "Customers around the world are experiencing the magic of iPad, and seem to be loving it as much as we do."
Touching on the reported iPad shortages both in the U.S. and across the world, Jobs said: "We appreciate [customers'] patience, and are working hard to build enough iPads for everyone."
Apple also gave a brief update on iPad apps, saying there are now over 5,000 apps designed especially for the tablet.
iPad will be available in nine more countries in July and additional countries later this year.